World news story
Sport event with members of the British Community
Football match live between England and Peru in the Estadio Nacional on Friday 30 May.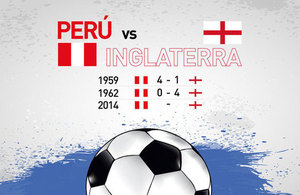 This is the first time the two teams have played in over 50 years so we wanted to mark the occasion by bringing together British and Peruvian sports fans. We are collaborating with the Instituto Peruano del Deporte, the Camara de Comercio Peruano Britanica and commercial sponsors Lindley, Samsung, Avianca,. Backus and Russell Bedford to screen the match live in the Estadio Nacional.
We are making 200 tickets to the event available to the British community based in Peru on a first come, first served basis. All you need to do to get hold of a ticket is to turn up at the Embassy between Monday 26 May and Thursday 29 May with your British passport or a photocopy of the passport. Each British passport holder who comes to the Embassy will be allowed to collect up to four tickets for themselves, their friends and family. For security reasons, we will need you to give us the names of your invited guests when you arrive at the Embassy. Your guests do not necessarily need to be British nationals but we will only give tickets out to people holding a British passport.
The event will start at midday and there will be food and drink available for sale in the stadium. We will have some entertaining activities in the stadium before the game starts and will be selling tickets for a charity raffle. Children are very welcome at the event.
Published 23 May 2014