World news story
Sport deal cements UK-Russia links
This was published under the 2010 to 2015 Conservative and Liberal Democrat coalition government
UK and Russia have signed a landmark accord which will see the two Olympic hosts deepen co-operation across a range of sporting activity.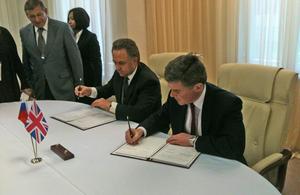 Their respective Sports Ministers did so in St Petersburg where Hugh Robertson and Vitaly Mutko were attending an international SportAccord Convention.
As consecutive hosts of the Olympic Games in London 2012 and Sochi 2014, Britain and Russia indeed have long had a lot to talk about. There has already been the opportunity to share experience on volunteering, paralympic access, sustainable architecture and other sport-related issues, and it was a key part of the recent meeting in Sochi between President Putin and Prime Minister David Cameron which included helicopter tour of facilities now under construction.
Now the Ministers have agreed to do more. They signed a Memorandum of Understanding on Sport, covering elite sport, mass participation sport and major sporting events.
There are already 60 or so British companies working in Sochi for the Winter Olympics there next year. With Russia looking forward to a 'decade of sport', including the football World Cup, and major international athletics, ice hockey, and much more, the co-operation will continue and deepen.
The agreement between the UK's Department for Culture, Media and Sport and the Russian Federation Ministry of Sport seeks to further develop cooperation in sport between 2013 and 2015, "to strengthen friendship and to improve mutual understanding between the peoples of the two countries".
It involves sharing best practice and experience in the efficient management of the economic, social, and cultural legacy of the 2012 Olympic and Paralympic Summer Games in London and the 2014 Olympic and Paralympic Winter Games in Sochi, and facilitate, where appropriate, the development of bilateral cooperation in high performance sports events; physical education and mass sports; sports for the disabled; sports science and medicine; and in sports infrastructure and technologies.
The Memorandum will primarily be implemented by the exchange of information, supported by appropriate events and exchanges, including the exchange of delegations of specialists and experts on the Olympic legacy use, construction and operation of sports facilities, and specifically the Olympic and Paralympic Games and FIFA World Cup.
While it does not carry the status of an international treaty and does not create any legal obligations governed by international law "it serves as an expression of the strong intention of the Participants to carry out mutually advantageous bilateral cooperation".