Sponsored reservists honoured for work with RAF
Three Oxfordshire-based civilian pilots have been awarded their 'military wings' in a ceremony at RAF Brize Norton.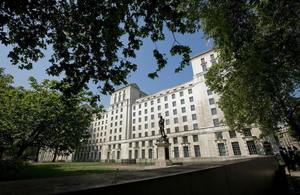 Iain Cullen, James Davis and Kieran Roebuck have a combined total of almost 30,000 hours on civilian aircraft, having flown with airlines such as BMI, Astraeus and Monarch.
But they are not your usual pilots, they are sponsored reservists, fulfilling a vital role training and supporting No 10 Squadron's operations on board Voyager, the newest and largest-ever RAF aircraft to arrive at RAF Brize Norton. When required, they switch to military uniform and hold the rank of Flight Lieutenant.
In acknowledgement of their experience, the RAF has awarded the pilots with their RAF brevets, commonly known as 'wings', following completion of a shortened version of officer training.
At the presentation on Monday, 24 September, Air Officer Commanding No 2 Group, Air Vice-Marshal Philip Osborn, said:
The RAF is proud of its world class air mobility capability and the essential role it plays in delivering the UK's defence effort at home and overseas. The Voyager aircraft is an increasing part of this exceptional capability and it is crewed by a unique and highly effective mix of regular and reserve aircrew.

Our sponsored reserve pilots are subject to the same military law and principles as their regular counterparts and it is our intent that no distinction should be made between sponsored reservists and regular pilots. Therefore today I am very proud to award RAF wings to three of my newest RAF colleagues.
On receipt of his wings, Flight Lieutenant Iain Cullen said:
I'm honoured; wings are a prized possession and symbolise the hard work and lengthy training it takes to be a military pilot. It is great to be working alongside No 10 Squadron and supporting a vital capability for the MOD.
Published 27 September 2012