World news story
Speech: Intellectual Property, Key to Business Success
HE Scott Wightman keynote remarks at the opening of the USPTO-UKIPO Breaking Barriers: Intellectual Property and the Value for Society event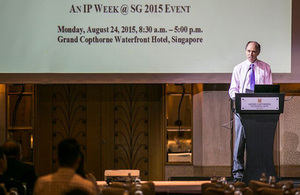 Thank you for the introduction.
It is a great pleasure to be here today with all of you.
A warm welcome to Singapore for delegates who have arrived yesterday.
We started planning this event with the US Patent and Trademark Office (USPTO) as early as in February this year and I know the Intellectual Property Office of Singapore (IPOS) have been working on this week's IP Week @ SG since last year.
We are honoured that this workshop themed 'Breaking Barriers: Intellectual Property and the Value for Society' is organised in conjunction with Singapore's IP Week.
And as Singapore celebrates 50 years of independence and we look forward to the launch of the ASEAAN Economic Community later this year, it's a particularly relevant moment to be focusing on the role of IP in the next stage of Singapore's economic development, and how it can fuel innovation and creativity and promote trade and investment.
At today's event you'll be covering important patent, trade mark and copyright topics, drawing on real world examples that highlight the ways a comprehensive intellectual property rights (IPR) system promotes global social progress.
IP matters to our countries – UK, Singapore, the US, ASEAN members, everyone.
The economy in the UK is now growing more strongly than any other large developed economy. Despite slow growth in the Eurozone, our biggest export market, growth in the UK last year was 3%. Unemployment is down to 5.6%, half the European average.
And the UK is the top destination for foreign investment in Europe. For the last four years, Chinese investment in the UK has grown at 85% a year.
And after China, the UK is the top destination for Singaporean investment.
Foreign investors choose the UK because, like Singapore, we are an open economy. We embrace foreign investment. We have a Government committed to supporting business. We offer the lowest corporate tax rate among G7 members 20%. And that will fall to 19% in 2017 and to 18% in 2020.
We have flexible labour markets. We have world-class universities, four in the global top ten. We have the world's leading international financial centre. Investors know that our courts are independent and rigorously impartial.
But investors are also attracted to the UK because we are among the most creative countries in the world. The UK is a genuine global hub for ideas and innovation whether in design, music, architecture, gaming, fashion, TV and film, biotechnology or aerospace.
In fact our burgeoning knowledge economy was one of the keys to our ability to get through the most challenging economic and financial crisis the world had seen in 70 years.
And the UK's approach to intellectual property has been central to the development of our knowledge economy.
IP matters economically to us in the UK because it helps our economy grow and mature.
And IP should be doing the same for the economies of Southeast Asia.
ASEAN with its growing population and rapidly developing economies, is the region of the future.
That's why our Prime Minister, David Cameron, visited Indonesia, Singapore, Vietnam and Malaysia last month with four other members of the Cabinet and over a hundred business, academic and civic leaders, including from our Northern Powerhouse region in the North of England.
Together the 10 member states of ASEAN rank as the 7th largest economy in the world. 40% of world trade passes through the Straits of Malacca. 15% of UK trade passes through the waters of this region. So it really matters to us.
The UK strongly supports the development of the ASEAN Economic Community. And David Cameron announced during his visit the appointment of the first Trade Envoy to the AEC, Richard Graham.
And in the development of the AEC, the work ASEAN is undertaking to transform itself into an innovative and competitive region through the use of IP will be invaluable.
But this is not at all straightforward. It's important to craft an approach that takes into account the diverse needs of all member states, and I know the IP offices in ASEAN have put significant efforts into developing IP systems in the region to accelerate IP asset creation, commercialisation and protection and to improve regional policies and harmonisation of systems.
If the AEC is to fulfil its potential for the people of the region, then it's going to be essential to establish business environments that allow companies to operate effectively and safely across borders. And that is why a comprehensive IPR system is so important.
And it's why we want to help ASEAN member states to develop robust IP systems that benefit all of us.
I believe we have much to share and much to learn from each other.
In 2013, the Taylor Wessing Global IP Index judged the UK to be the best place in the world to obtain, exploit and enforce intellectual property rights.
But we are not complacent.
We are determined to ensure that our intellectual property framework keeps pace with a changing world, and that it remains relevant and flexible, in order to preserve the incentives for companies in the UK to invent and create.
This is a challenge facing governments across the world.
I would like to briefly outline here today, why IP matters so much to companies, how it can protect and enhance the value of your business, why it is relevant to us all as consumers.
Throughout today's sessions you'll hear how the UK government tries to help businesses and consumers, whether through patent initiatives, local innovation, copyright and trade mark protection, or brand development.
Because without proper IP protection, your ideas, your inventions, your brands risk being neglected, lost or even stolen from you.
This can be across sectors – fake Liverpool football shirts with inaccurate crests being sold to English Premier League fans in Thailand and Indonesia; fake iPhones with none of the features of a genuine one; fake medicines made up of compounds that at best do nothing to cure you, may cause long term damage to your health or at worst could kill you; fake Scotch whisky that will scrape your throat and rot your gut instead of transporting you with each sip to the hills and lochs of Scotland.
So this matters. It matters to your governments. It matters to your taxpayers. It matters to your inventors. It matters to your companies. It matters to your customers. And if that's nor persuasive enough, it matters to your families.
Importance of IP
In the UK the Intellectual Property Office (IPO) is not only a rights granting body, covering all IP rights. It's also responsible for Government policy on IP.
This is important. Because the UKIPO aims to offer the right incentives to innovators, to help them create new ideas, new ways of doing things and so help companies – and accordingly, consumers.
But why is IP so important? And why is it becoming even more important?
Well whereas, in the not too distant past, the majority of business investment was in people or physical things like premises and machinery, today it's in intangible goods, in ideas and in creativity.
In 2011 the UK invested £88 billion in tangible assets. We invested £127 billion – 50% more - on intangible assets.
IP is now at the heart of any successful international business. All of them own some form of IP. It could be in the form of technology, innovative designs or original works of art, music or film.
IP rights can help you protect and exploit your IP - for instance patents protect inventions and innovation; copyright protects text, music and images; design rights protect new designs; trademarks protect brands and logos.
The evidence clearly shows us that great ideas, properly protected and effectively exploited, help companies compete more successfully both in domestic and foreign markets.
A great recent example is the British singer songwriter Sam Smith who won four Grammys earlier this year as well as the BRIT Global Success Award in February's award ceremony.
Copyright protection is fundamental to Sam Smith's ability to sell his work and achieve that success.
With good IP protection, businesses perform better, grow faster and are more resilient and consumers are protected.
But unless businesses, creators and other users understand how best to navigate and make use of robust IP frameworks, they aren't able to exploit the true value of their ideas.
And at a national level, if we fail to maximise the contribution of IP and the knowledge economy to economic success and growth, then ultimately this slows the social and economic progress of our countries. At the most basic level, it means fewer sustainable jobs for our people.
Conclusion
So the UKIPO aims to help businesses maximise the potential of their intellectual property assets. It makes sure they understand the opportunities and can access the help and advice they need to turn great ideas into great products and services. And great products and services into profits and jobs.
Still too many businesses fail to protect their intellectual property. Too often they fail as a consequence. But those businesses that do make the effort, survive, thrive and prosper.
You will hear today about how to make this happen.
But you will also hear how fostering a positive IP culture can help to save lives in the poorest countries facing the biggest challenges.
It should be an interesting and rewarding day.
Thank you all for coming and I hope you enjoy the workshop.
Further information
Follow the British High Commissioner to Singapore on Twitter @HCScottinSG
Follow the British High Commission Singapore on Twitter @UKinSingapore
Follow the British High Commission Singapore on Facebook
Follow the British High Commission Singapore on Instagram
Published 25 August 2015