Speech by The Minister of State for Northern Ireland the Rt Hon Hugo Swire MP at the John Redmond Lecture Waterford
Approach to Commemorations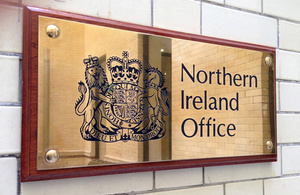 We have now entered a decade that will witness many important anniversaries, including the centenaries of the Ulster Covenant, the battle of the Somme, the Easter Rising and the Government of Ireland Act.  
Each of these events will evoke different images and represent different understandings of our past.  
But there is also an opportunity to come together in a spirit of mutual respect.  And I was honoured to be invited to represent the British Government at the commemoration and Ecumenical service in Cobh this afternoon to mark the sailing of the Titanic in the presence of President Michael D Higgins.
And we need look no further than Her Majesty the Queen's ground breaking visit to the Republic of Ireland last year.    
The key is to learn from the past and, as Her Majesty put it, to 'bow to the past but not be bound by it'.
For too long we have concentrated on our differences as we each seek to navigate through what at times has been a difficult history.
Yet if we look at the past we can see strong evidence of a shared history.  
Sir Edward Carson, the first to sign the Ulster Covenant, was born in Dublin and was educated at Trinity College.
James Connolly, who took such a central part in the Easter Rising, was born in Edinburgh and served in the British Army for seven years.
And John Redmond's brother, Willie, whose grave I visited last year and hope to visit again with Minister Deenihan this year, died fighting in the First World War at Messines in Belgium.
So, for our part, the British Government feels that recognition of these momentous events is important.
And to use the words of Her Majesty in Dublin, it will be done in a manner that emphasises the importance of forbearance and conciliation.  
In looking at how we mark contentious centenaries we are working very closely with the Irish Government, the Northern Ireland Executive and other interested parties.
So last month, the Taoiseach attended the launch of an exhibition in Westminster Hall marking the centenary of the Third Home Rule Bill.
I should add that on that occasion 100 years ago my party and the Liberals were very much on opposite sides, something which is unthinkable today!
And we hope that the exhibition will travel to Dublin and to Northern Ireland.
There are of course some people who will try and use these commemorations to recreate the worst parts of our history - as we have seen over the last few days in Londonderry.  
The greatest weapon we have against these people is as Minister Deenihan said in his opening remarks, tolerance and understanding.  
Tolerance for different perspectives on past events; and understanding that celebration of these events may offend those with a different perspective.
When speaking of Home Rule, here in Waterford it is impossible not to be aware of the legacy of John Redmond and the Irish Parliamentary Party.
John Redmond was as we know the Member of Parliament for Waterford City from 1891 till 1918.
And the Irish Parliamentary Party - or Nationalist Party to use the more generic term - played a key role in Westminster politics from the 1880s to its eclipse by Sinn Fein at the 'Coupon' election of 1918.
Indeed it is largely responsible for one of those parliamentary devices beloved of governments and loathed by oppositions - the guillotine, or the more bureaucratic sounding successor, the programme motion.
It was due to the effectiveness of the Irish Parliamentary Party in obstructing government business that Gladstone, a convert to Home Rule, introduced it, and a Unionist Government, led by Lord Salisbury, made it permanent.
Like all parties the fortunes of the Irish Parliamentary Party varied.
For nearly four decades it dominated the Irish political landscape.
After the electoral map was redrawn in 1884-5 - much to the advantage of the Conservatives I'm glad to say - here in Ireland it won up to 86 of the 105 parliamentary seats.
And it is a little remembered fact that from 1885 to his death in 1929, TP O'Connor represented the Scotland division of Liverpool as an Irish Nationalist.
Yet in Ulster the party's fortunes were more mixed.
While the Irish Parliamentary Party usually included around 10 Protestant MPs, including most obviously until his downfall Parnell, in Ulster it attracted fairly minimal Protestant support.
And at the time of the introduction of the Third Home Rule Bill it had 16 MPs in Ulster while the Unionists held 17 seats - though this was reversed in early 1913 when a Nationalist was returned at a by-election in Londonderry.
The Irish Parliamentary Party's influence at Westminster was undoubtedly at its height when there was a hung Parliament, for example in 1885-6, 1892 and of course following the two inconclusive general elections of 1910.
At other times, particularly the period from 1895-1910 when first the Unionist Governments of Salisbury and Balfour, and then the Liberal Governments of Campbell-Bannerman and Asquith, had comfortable majorities its influence was less discernible.
This has often been described as a period when, to use the words of Tim Healy, Home Rule was 'put into cold storage'.
I am, though, reminded that that this was the period which also saw possibly one of the Irish Parliamentary Party's greatest achievements, the passing of the Irish Universities Act 1908, to establish the National University of Ireland.
It was of course following the two elections of 1910 that Home Rule was taken out of cold storage and put very firmly back on the political agenda.
And it was at this stage that John Redmond played his hand with great skill, by exchanging Irish support for controversial Liberal measures, in particular the Parliament Act to restrict the powers of the Lords, in exchange for commitments on Home Rule.
Thus it was that 100 years ago this month Asquith introduced the Government of Ireland Bill, or as it is better known the Third Home Rule Bill.
For Redmond it was the high point of his political career.  As he told the House of Commons:
'If I may say so reverently I personally thank God that I have lived to see this day'.
It is not my intention here to re-visit the great battles over Ulster that ensued - and in which my party had more than a walk on role.
I am more than happy to leave that to professional historians.
I would though make the following observations.
It is clear that while Redmond was a passionate Home Ruler he at all times sought to pursue his aims by purely constitutional and parliamentary means.
Indeed one of his tactics during this period was to contrast the behaviour of those supporting Home Rule with those of fellow barrister Sir Edward Carson and his followers in Ulster in an attempt to influence public opinion and strengthen the resolve of the Asquith Government.
He was initially a reluctant leader of the Irish Volunteers in 1914 and after assuming the leadership was a moderating influence on that movement.
I also think it is fair to say that like many Nationalist leaders at the time, Redmond had little understanding of Ulster or the intensity of Unionist opposition to Home Rule.
And of course by the time war broke out in 1914 it was the issue of Ulster that remained unresolved.
Yet, on 18 September 1914 the Government of Ireland Act took its place on the statute book, albeit suspended for the duration of the war, and for Redmond this was undoubtedly a massive personal and political achievement.
What would have happened but for the intervention of war in 1914 is one of the great 'ifs' of history and I shall resist the temptation to add to the speculation.
When hostilities broke out in August that year, Redmond's basic approach of 'Imperial loyalty' led him to give full support for the war effort.
He saw the war as an opportunity to unite all Irishmen and women in common cause.
Speaking in the House of Commons on 3 August 1914 he said:
'I say to the Government that they may tomorrow withdraw every one of their troops from Ireland.  I say that the coast of Ireland will be defended from foreign invasion by her armed sons, and for this purpose armed Nationalist Catholics will be only too glad to join arms with the armed Protestant Ulstermen in the North'.
Redmond genuinely believed that bringing together Ulster Protestants and Irish Catholics together in the war effort could provide a basis for national unity and Home Rule for Ireland, still connected to Britain and within the Empire.
Again, I shall leave it to others to debate the merits of Redmond's strategy during these years though as one historian put it:
'Nobody committed to Irish unity could have behaved other than Redmond did at the time.  Otherwise, there would be no chance whatever of a united Ireland, in which Redmond passionately believed'.
And of course like most people, Redmond had no idea of the extent of suffering and horror that the First World War would bring, and the consequences that would have for so many Irishmen and women and ultimately nationalist politics.
There followed the Easter Rising in 1916 and another failed attempt by Asquith to introduce Home Rule in July that year.
Due to its provisions providing for the exclusion of Ulster from Home Rule, the proposed Bill was completely unacceptable to Redmond and his party.
Redmond died in March 1918 following the breakdown of the Irish Convention to settle, yet again, the Ulster question and nine months before the Irish Parliamentary Party was swept aside by Sinn Fein.
For me, though, it is his legacy of unwavering support for constitutional politics that resonates to this day.
And I am convinced that he would have welcomed the declarations and agreements of the past two decades which have ensured that the future of Northern Ireland - and indeed relationships on this island - will only ever be determined by democracy and consent.
Conclusion
Let me conclude with this.
If you walk out of the Members' Dining Room in the House of Commons and turn right you will pass a bust of John Redmond.
Continue towards the Members' Library and you will face a bust of Sir Edward Carson.
A century ago these two great Irishmen, both barristers, one a Nationalist the other a Unionist, were about to become locked in a dramatic battle over Home Rule.
It was bitter and divisive.  
A century on and we have a stable, functioning power sharing government in Northern Ireland.
And, as the recent Joint Statement by the Prime Minister and the Taoiseach demonstrated, relations between the United Kingdom and Ireland have never been stronger. What is crystal clear - Waterford Crystal clear - is that there is more that unites us than divides us.
So, yes, let us mark historic events in a spirit of understanding and respect - as we will over the coming years.
Yet let us also resolve to do so in a way that enables us to move forward and continue to build on the achievements of recent decades.
Published 11 April 2012