News story
Speech by Rt. Hon Lord McNally, Minister of State for Justice
Speech given by Rt. Hon Lord McNally, Minister of State for Justice, on his visit to St Petersburg.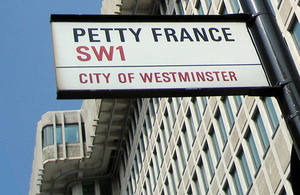 Checked against delivery.
Introduction
It is a pleasure to be here in St Petersburg and an honour to be speaking with the men and women who will be the future of the legal profession in Russia. My first visit to this country was in 1966 and it is 38 years since my last visit to this great city. Though much has changed, St. Petersburg remains one of the most beautiful cities in Europe. What most struck me was my visit to the Siege of Leningrad Museum. It made a great impression on me and still does.
Sir Frank Roberts, one of the great doyens of foreign policy, in the middle of the last century said that Britain and Russia should engage on all issues, at all levels, at all times. I believe that's a sensible policy between countries. It was sound advice then, and is sound advice now.
Our paths have sometimes diverged over the past century, and sometimes we have fought shoulder to shoulder in a heroic struggle. We are not going to see eye-to-eye on everything. But scratch the surface and you find we are countries that face common challenges and where cooperation and exchanges of skills and ideas make mutual common sense.
I want the relationship between Britain and Russia to be one of candid friends.
One area of fundamental importance to the common good is the central place of the law in modern society if we are to flourish. That's what I'd like to cover in my speech today.
You don't need me to give you another reminder that the world is facing real turbulence at the moment. The global economy is only just emerging from some of the worst economic storms since the Second World War. Weak growth in a number of countries, and persistent uncertainties in the Euro-zone make it all too clear that this recovery is going to be neither quick nor easy.
How the EU's institutions respond to this crisis will be a real test of the nature and shape of the political continent in the next generation. I am a committed pro-European, but it is right that we ask the question of what we want the EU to look like – where we want it to take action, where it might need to take action, and what responsibilities should remain at Member State level. How the EU deals with these issues will impact on its members; but also on Russia and other non-EU European countries and neighbours.
We need dialogue about how we deal with each other and how we deal with problem areas and flash points around the world. We have just had a good example of contact and dialogue with the meeting last Friday between Prime Minister Cameron and President Putin. Top of their agenda were discussions about events in the Middle East, particularly the conflict now taking place in Syria.
The Arab Spring was an incredible event to witness - it has undeniably changed the world political map to a comparable extent to the events of 1989. But the long-term outcomes aren't a foregone conclusion. The incredibly difficult and bloody situation in Syria shows me two things.
First, uncertainty and instability in the region are not things of the past.
And second, it convinces me more than ever that the rule of law must be the bedrock of our societies and of our politics. Not the narrow rule of law of the dictator, but that broad rule of law provided by an open society which respects freedom of thought, speech and conscience, and protects the minority view.
So how do we respond to the common human desire for progress, opportunity and prosperity, at a time when the capacity of the world economy to deliver is under threat?
Expanding wealth and opportunity is partly about trade, and there is no doubt we should redouble our efforts. There is a natural fit between Britain and Russia in matters of commerce because we excel in complementary areas. The UK is strong in services, but light on resources. Russia is strong in resources, but lighter on services. It's totally appropriate that our business links should run deep. They provide for what the poet T.S. Elliot called "A happy coalition of intelligent self interest".
The UK is the third largest foreign direct investor in Russia. We're the second largest European investor. Our overall investment in Russia totals almost £8 billion. Exports increased by a third between 2010 and 2011 - from £566 million to £753 million.
These are promising figures. But I believe that across the globe one important set of factors slowing growth and getting in the way of recovery is the waste and uncertainty caused by inadequate justice systems and weak rule of law.
We often talk of the rule of law in terms of the protection it gives to the individual citizen in terms of his or her rights and freedoms.
It is equally valid in terms of international trade and commerce. Where laws are unjust to the trader or investor, or where just laws are not enforced, or where there is corruption in a judiciary or in law enforcement: those factors are as much a barrier to trade as any quota or tariff barrier.
Globalisation means the acceptance of global standards of law and enforcement. Trade and commerce thrive when the rule of law thrives.
Commerce and investment require predictability.
The waste and uncertainty caused by inadequate justice systems are, I believe, slowing growth. At any time that would be a shame – but at this time of financial difficulty for so many countries, it becomes a matter of the utmost importance.
The old protectionist would have it that modernising and opening up societies undermine stability and prosperity. But in fact the opposite is the case. Modernisation and protection of human rights – delivering freedom of speech, freedom of assembly and political association – these are the only true guarantees of stability and prosperity.
So progress on the rule of law is fundamentally important: it's in the interest of everyone, because it is the sure path to stable, prosperous societies.
The challenge for rule of law of course is not the absence of good intentions. It's how to deliver on them in practice.
Let me give a distinctly British perspective.
This year we mark 150 years of a set of groundbreaking rules which changed the world. In 1863 the rules of association football were drawn up in a room above a London pub.
Before that point the game of football was a sprawling, wild affair. Whole villages involved in unwieldy scrums fought – literally fought – over miles of open country.
But what was brought to football 150 years ago were some fundamentally important things: clear rules, widely understood, properly enforced. With that, the game of football we know today came into being and spread across the globe.
Playing to agreed rules doesn't just make sense for football. It makes sense for how we govern ourselves in all aspects of human relations: it is the rule of law.
I am very proud of Britain's distinguished and rich legal heritage. And I don't think it's a coincidence that those facets are all found together.
We are fast approaching another anniversary: in 1215 King John attached his Royal Seal to Magna Carta – a document with real and symbolic resonance not just for Britain, but throughout the world. It established clearly for the first time the right of the citizen against the right of the state.
In 1948 when Eleanor Roosevelt launched the Universal Declaration of Human Rights, she called it a Magna Carta for all mankind – and there was no need for simultaneous translation for the world to know what she meant.
The lesson of Magna Carta down the centuries is that in the absence of those same elements I just mentioned - clear rules, widely understood and properly enforced - people aren't secure or free, but are subject to arbitrary power – at best of the power of chance, at worst of tyranny.
That tradition of the rule of law now stands the United Kingdom in good stead in the new globalised world economy.
London is known for its high quality commercial sector we have a strong record of judicial independence and expertise. The open, globalised services that we offer – including fields like arbitration and mediation - play a fundamental role in oiling the wheels of the economy in Russia as elsewhere.
And London's success is mirrored across Britain - the expertise of the energy law sector in Scotland complements that of dispute resolution in London. Wales too has a great and growing reputation for legal education.
But the price of freedom is eternal vigilance and – in the spirit of openness – I am comfortable to say that our broader system of law can always be made better. We can always look to reform our system in order to ensure that it works for litigants and the public. It is an ongoing process. It is eight hundred years since Magna Carta; it is more than sixty years since the UN and the Council of Europe codified our commitments to human rights. Yet, in my own country the debate goes on about defining human rights and how they should be applied.
I am a staunch supporter of the fundamental freedoms embodied in the European Convention. When people recall with surprise that British lawyers helped draft it after the horrors of World War II, my reaction is surprise at their surprise. Of course British lawyers were involved: the Convention embodies quintessentially British rights and liberties, some of which have been in our DNA for eight hundred years and longer.
But of course they are rights that know no territorial boundaries. We're proud that 47 countries in Europe and beyond now subscribe to those basic protections.
That doesn't mean we always have an easy relationship with the European Court in Strasbourg.
It is uncomfortable for many – not least the Executive of which I'm a part – when a decision of the British government is overturned.
By definition we disagree with the stance that the Court takes and there is the appetite to dispute it.
But being found in breach by judges is part of the normal process of the rule of law.
Even established democracies are prone to the over-reach of executive power, and a basic set of standards enforced by a wholly independent judiciary is a vital protection of the values we hold dear.
Last year I was privileged to report on the UK's human rights record at the United Nations Universal Periodic Review.
This is a process of peer review: each member state is able to judge the human rights records of all other member states but in turn must have the spotlight reflected back on them.
So I had to take questioning on Britain's record from a wide range of countries, some with far less favourable human rights records than our own.
Some of our newspapers in Britain were outraged that I should submit to such questioning. But I kept in mind one thing: by submitting ourselves to scrutiny by others, we are setting an example – showing that we are open and unashamed of our record, and willing to examine where we can go further or to improve.
And ultimately, those countries will have their moment in the spotlight too. They will be held to account and – I believe –the public scrutiny the UPR puts countries under will lead to what we all want to see: the improvement of the human rights situation worldwide.
Respecting the rule of law and human rights doesn't undermine great nations; it is what makes nations great.
That doesn't mean everything is perfect in Strasbourg. We've made the argument that the Court remains overloaded and needs reform to ensure it can focus on the most serious violations.
Last year's Brighton Declaration should result in a Court that intervenes less frequently where cases are dealt with properly at national level.
But the quid pro quo of reformed international institutions is that national governments do their bit to ensure rights are more strongly respected. We take that seriously in the UK and remain committed to the highest standards.
Domestically, we've made a number of other major improvements to our legal framework. For example, we've reformed the law on bribery, which had fallen out of date. The regime we've brought in sends out a clear signal that it is unacceptable for British-based firms to bribe.
And it is proving useful to businesses, who are themselves often the victims of corruption. Operating in a legal system where they have a good reason not to pay bribes ultimately saves them money, protects their reputation and allows firms to attract ethical investment.
We've also very recently changed the law on defamation to make sure we get the right balance between the right of someone to protect their reputation and another important right: freedom of expression.
We've set people a new bar of demonstrating that they've suffered serious harm to bring a claim for defamation, which should root out claims without any real foundation and protect scientists and academics from big corporations who want to silence any criticism.
And as a Government we've committed to be as open as possible and have taken part in a review of how our freedom of information law is working. That showed how we can make some improvements to a regime that is generally working well, but we are also looking to push out even more information proactively to ensure the taxpayer can hold government to account in a full and transparent way.
Finally, we're reducing the timescales under which historical records are made available to the general public from 30 years to 20 years.
Russia of course has its own challenges. And there have been areas of progress – for example, legislation criminalising foreign bribery, ratification of the OECD Convention, or the landmark accession to the World Trade Organisation. These are all positive steps.
I welcome wholeheartedly the commitments made by President Putin and Prime Minister Medvedev to address corruption and promote judicial independence.
But further progress, in line with Russia's international commitments, is important, not least to increase the confidence of investors in Russia, including British ones.
Every citizen must be fairly and equally treated before the law. Even where institutions are left with hard questions to answer, it is vital that allegations of wrongdoing are thoroughly investigated, wherever that wrongdoing may have occurred.
Our own experience shows – for example where we've looked at wrongdoing by the authorities in Northern Ireland or following the Hillsborough Stadium disaster in 1989 – that honest self-scrutiny is vital for the development of democratic institutions and the pursuit of justice.
In the United Kingdom I have been a campaigner for freedom of information in Government for over forty years. I am proud to be part of a Government which has extended our Freedom of Information Act and embarked on a Transparency Agenda which proactively puts more Government information in the public domain than ever before in our history. We do so because we believe it improves both the accountability and quality of government. As the great US Supreme Court Justice William O. Douglas said: "Sunlight is the best disinfectant".
I hope that my personal political history and what I have had to say in this lecture demonstrate that I am a friend of your country. I never come to this country without a sense of awe for its people. But I said earlier that we should be candid friends.
Let me turn briefly, therefore, to a matter where there is, I believe, a need for candour. As a candid friend I am worried, as is my Government, by recent pressure on NGOs and the impact this will have on civil society. This is a backward step. NGOs make a vital contribution to civil society, and their advocacy for fundamental freedoms is a major pillar in upholding the rule of law in any society.
In this room we have Russia's legal future. It falls to you to ensure that Russian citizens are able to enjoy their full rights.
That means that the law and law enforcement has to be for all, including minorities. It cannot – and must not –discriminate on grounds of ethnicity or sexual identity. The courts must not allow political interference or institutional bias. No small task in any country, but I believe you will be equal to this challenge.
Conclusion
As both our nations continue on the journey of reform, the UK wants to work together in our shared national interest. Our countries already work together closely commercially, of course. International legal firms and specialist services offered out of London are helping Moscow emerge as a leading financial centre and modernising St Petersburg's infrastructure.
But rule of law needs to extend further and deeper if our countries are to thrive.
I hope we can build on existing bilateral cooperation and continue towards a stronger partnership. For it is only by making progress together than we can secure the greater prosperity, and freedom, that our people want. There is little to lose, and much to gain.
Published 16 May 2013
Last updated 20 May 2013
+ show all updates
Text changed to the 'checked against delivery' version
First published.