Press release
Specially adapted boat for disabled anglers is a success
With the winter fishing season upon us, disabled anglers are encouraged to take advantage of a specially designed boat on the Norfolk Broads.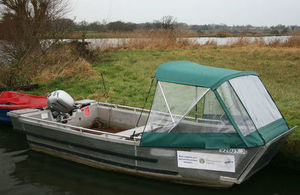 The wheelie boat, based on the river Yare, was launched in 2011, thanks to a partnership between the Environment Agency and the Norwich and District Pike Club.
The boat's roll-on, roll-off bow ramp and level deck, means wheelchair users can enjoy independent access to angling on the water, and the facility has proved to be popular, with an average of 50 trips a year.
Angling access for all is one of the Environment Agency's highest priorities, and in conjunction with the Broads Angling Strategy Group (BASG), they have already created disabled angling places on many stretches of the tidal rivers.
Fisheries specialist at the Environment Agency Steve Lane, said: "We are really proud to be supporting this project. It is a great illustration of how we can work together with anglers and use rod licence money to give people the opportunity to enjoy fishing and the aquatic environment."
Among the people who have benefited from the facility is Iraq veteran Chris Baker, whose serious injuries sustained during action, means he now has to use a wheelchair.
Mr Baker, who is involved with Heroes On the Water, contacted the Essex Region Pike Anglers Club to see if there was a chance he could go out pike fishing.
The club put him in touch with the Norwich and District Pike Club, who help run the wheelie boat project, and Mr Baker enjoyed a 5-hour trip on the Norfolk Broads.
Sean Ellis, regional organiser of the Essex Region Pike Anglers, who accompanied him on the trip, said: "The excitement on Chris' face was a joy, to feel the freedom of being out in the boat on the Broads.
"Try as we did, no pike came to the boat that day, but it mattered little. It was great to think that we'd helped him gain that independence once more."
Members of the Norwich and District Pike Club donate their time, tackle and bait to take out people who would not normally have the opportunity to fish the Broads from a boat.
During the fishing close season the boat is used for other trips, including bird watching and general interest in the waterways.
John Currie, from the Norwich and District Pike Club, who co-ordinates the project on a voluntary basis, said: "It is very easy to access and those who come on board do not need an escort, which is appealing to many people."
The boat is run from dawn til dust and is taken out in all weathers.
Anyone who is interested in booking a trip in the boat should contact John Currie on 07776 221959.
Published 26 November 2015