News story
"Space: a new direction" – David Willetts speech at Farnborough International Airshow 10 July 2012
Good morning, everyone - and let me add a personal welcome to our distinguished guests today: Francesco Profumo, Enrico Saggesse, Vladimir Popovkin…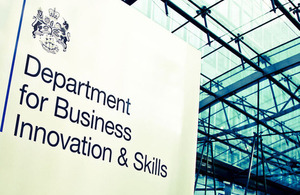 Good morning, everyone - and let me add a personal welcome to our distinguished guests today: Francesco Profumo, Enrico Saggesse, Vladimir Popovkin and of course Jean Jacques Dordain.
I'm delighted to be back at Farnborough as we celebrate 50 years of the UK in space. It was back in 1962 that the UKs first satellite, Ariel 1 was launched third after the USA and the then USSR. It was the start of a major home-grown industry and a true British success story. And I was delighted that, 50 years to the day, on April 26th 2012, the UK signed a €300 million contract to build the Solar Orbiter - a pioneering project to better understand how the Sun affects the Earth. It was the largest single contract placed by ESA with the UK space industry in two decades, and a great way to mark a half century of scientific and technological advancement.
Rather than surveying the past five decades, allow me to highlight some of the progress achieved in the UK since the formation of the UK Space Agency in 2011.
• The Agency has done a fine job carrying forward the Innovation and Growth Strategy agreed with industry through the Space Leadership Council.
• Satellite technology is now an integral part of the Government's policy for broadband delivery in rural and hot spot areas. Public investment of around £40 million in satellite broadband technologies has leveraged more than £500 million of capital funds from the market to deliver UK-owned and UK-operated services.
• The space cluster in Harwell, the ESA facility is up and running - and the joint ESA/UK business incubator has met its first-year target of establishing 10 new companies. There are in fact 12 firms now located there, with a further three about to join them.
• Further evidence of UK progress came only yesterday, with the announcement that leading US company Aerojet is to create a facility in Northern Ireland - and several dozen new jobs - to build rocket thrusters for satellites.
On the research side, we've had the first results from Cryosat that quantify the polar ice sheets - a major step towards understanding the rate of long-term change.
We've just delivered to NASA the first instrument for the James Webb Space Telescope - the giant successor to Hubble. And, thanks to UK expertise, we can look forward to the Planck satellite delivering a detailed map of the echoes of the Big Bang - showing the first structures in the Universe more than 13 billion years ago.
Most importantly, perhaps, the space sector continues to buck general economic trends. Today, we are announcing the latest update on the size and health of the UK industry - and it's very encouraging. The report shows that growth remains positive at an average of 7.5 per cent over the latest period surveyed - with downstream business doing particularly well. The sector was worth £9.1billion in 2010/11 - compared to £7.5 billion in 2008/09 - and is providing jobs for 29,000 skilled workers. Space is one of the UK's key high-tech growth industries. I fully expect this growth trajectory to continue, as UK industry breaks into new markets and seizes more export opportunities.
Space-related technologies are advancing at a substantial pace - nowhere more so, arguably, than in launch systems. This is an area where the likes of Virgin Galactic and potentially the Skylon space plane being developed by Reaction Engines's could be game changers. The US, it appears, is sticking with SpaceX's traditional launcher model, while our Russian colleagues here continue to provide a valuable service through Soyuz. This presents an opportunity for us to seize the advantage in terms of both technology and regulation. Space tourism and commercial space are just beyond the horizon.
But at present, in my view, Europe is not ready to grab this opportunity - and we must not lose out. We must formulate a regulatory framework that will allow reusable aircraft-type launchers to operate here. I understand that Reaction Engines are making a significant announcement this afternoon regarding progress on their pre-cooler technology. Their SABRE engine already represents 30 years of incredible British R&D. It's a remarkable world first, and the pace at which they're advancing illustrates the urgency of laying the appropriate groundwork now. That is why i can announce today that I will be working with Justine Greening at the Department for Transport, to determine how the UK, indeed the whole of Europe, can best position itself to take advantage of space plane activities. We'll be exploring the type of certification needed for space crafts and identifying the essential characteristics of an operational spaceport. Antonio Tajani, European Competition Commissioner has also agreed to pursue this matter with the European Air Safety Agency.
Another area where I'm keen to see further progress is at Harwell. Besides the positive news emerging from the business incubator, my department has funded the development of the International Space Innovation Centre, and last year's £10 million investment in the National Space Technology Programme has brought in an extra £17 million from other sources. Some 50 new projects are underway as a result, from designing giant telecommunications satellites to testing "green" rocket propellants compliant with future safety requirements. I'm therefore delighted to announce today that the Satellite Applications Catapult will also be located at Harwell. The Catapult will give real impetus to commercial development from our space assets. Today we are also announcing the Technology Strategy Board delivery programme. From its £250 million budget for speeding up innovation in priority areas over the coming financial year, up to £10 million will be allocated to space.
The bigger picture, of course, is making sure that space continues to be a key enabler of economic growth - and that's the central goal of the revised Civil Space Strategy that I am publishing here today. The document, covering the next four years, focuses on creating new opportunities for industry, bolstering the role of space in the UK's infrastructure and furthering the National Space Technology Programme. As such, it reflects the themes I've covered today, like regulating commercial space and improving knowledge of how the planet is changing, as well as addressing skills and training issues. It certainly captures the breadth of activity falling within the Space Agency's remit.
Turning to security matters, I recently met with colleagues in France and we agreed that space situational awareness - addressing the small but growing risk of satellites crashing into each other or colliding with other debris - is a growing issue. This is an area where we've tended to rely on the USA for information, but the UK does need to consider taking responsibility for managing its own issues. This is important in the context of our own satellites and those we share with European partners. With the recent conclusion of the Wimbledon championships, I note that the smallest object we can currently track in low Earth orbit is equivalent to a spotting a tennis ball at a distance of 3,000 kilometres - making the undoubted powers of Hawkeye technology in SW19 seem rather humdrum by comparison. It's vital that the UK has the capability to predict potential collisions with space debris or other satellites, and the Space Agency - together with other government departments - will be determining the scope of that capability in ways that are complementary to both our US and our European friends.
Let me conclude by looking forward to November, because 2012 is an important year for ESA, with the ministerial council taking place in Italy. The backdrop for the meeting is inevitably uncertain, given Europe's current economic troubles. Nevertheless, as I await advice on the UK position from the Space Leadership Council, I hope we can reach a point that will see the role of ESA strengthened in this country. There are also several important European-wide programmes which will require attention - not least the ESA missions to Mars in 2016 and 2018, for which our council hosts are also our major European partner. I am pleased that we now have a viable way ahead for Exomars, following NASA's withdrawal from the project last year. I repeat my gratitude to the Russians for stepping into the breach ??? and to the other ESA member states currently rethinking priorities so that this mission can proceed. From a UK perspective, I'm looking forward to saying that our export drive - courtesy of Astrium - has extended to other parts of the solar system.
It only remains for me to hand you over to my co-chair on the UK's Space Leadership Council, Andy Green.
**Notes to editors
**1. The Government's economic policy objective is to achieve 'strong, sustainable and balanced growth that is more evenly shared across the country and between industries.' It set four ambitions in the 'Plan for Growth' (PDF 1.7MB), published at Budget 2011:
To create the most competitive tax system in the G20

To make the UK the best place in Europe to start, finance and grow a business

To encourage investment and exports as a route to a more balanced economy

To create a more educated workforce that is the most flexible in Europe.
Work is underway across Government to achieve these ambitions, including progress on more than 250 measures as part of the Growth Review. Developing an Industrial Strategy gives new impetus to this work by providing businesses, investors and the public with more clarity about the long-term direction in which the Government wants the economy to travel.
BIS's online newsroom contains the latest press notices and speeches, as well as video and images for download. It also features an up to date list of BIS press office contacts. See http://www.bis.gov.uk/newsroom for more information.
Notes to Editors
Contact Information
Name BIS Press Office Job Title
Division Department for Business, Innovation & Skills Phone
Fax
Mobile
Email bispress.releases@bis.gsi.gov.uk
Name Dan Palmer Job Title
Division Department for Business, Innovation and Skills Phone 020 7215 5303 Fax
Mobile
Published 10 July 2012