World news story
Space 4 Houston Event Looks to Bring UK Space Technology to Texas
Satellite Application Catapult holds first international workshop with Houston public sector groups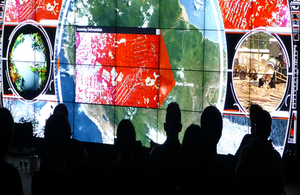 The Satellite Applications Catapult, an organization established by Innovate UK to further develop the downstream UK space sector, recently held its very first international event in Houston, Texas. This initiative, appropriately titled Space 4 Houston, brought together UK Satellite experts with local leaders to explore new opportunities for utilizing space services in their sectors. The UK Science and Innovation Network at the British Consulate General Houston worked with the Rice Space Institute to organize the event that included participation from Houston's Port Authority, regional planning departments, and state and local emergency management teams.
Houston Consul General Andrew Millar hosted an evening reception to kick off the arrival of the Catapult organization, followed by a day-long workshop that showcased existing UK practices of utilizing satellites in port and city management sectors and exploring potential services that could be developed for the regional-specific needs.
Stuart Martin, Satellite Applications Catapult CEO noted:
"We've always had a great response to the Catapult concept from the Houston community, and these workshops have reaffirmed the collaborative spirit and the opportunity to create important new partnerships."
Satellite Applications is one of the "Eight Great" technologies identified by the UK Government as being a key sector that will propel the UK to future economic growth. Space 4 Houston was a successful launch of UK downstream space expertise into the US market and the first step in exploring valuable new partnerships for UK companies. The Satellite Applications Catapult is looking to do other similar events across the US, focusing on specific sectors.
Published 5 February 2015