World news story
South West companies seek opportunities Down Under
A delegation of companies from the South West of the UK are in Sydney and Melbourne this week to find out more about exporting to Australia.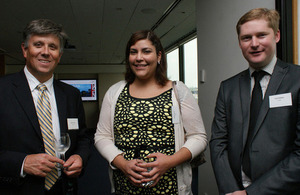 Six delegates representing companies from the South West of England are visiting Sydney and Melbourne this week as part of a trade mission to Singapore, Australia and New Zealand.
Deputy Consul-General & Director of Trade for Australia and New Zealand, Scott Strain, welcomed the delegates at a reception among the Sydney business community.
"We are delighted to welcome these successful companies to Australia where they will join over 1,000 UK companies already doing business here," said Mr Strain.
"It is a great time for UK companies to be doing business here with the UK economy making a comeback and the Australian dollar remaining strong. We have also seen exports increase by six per cent to $10.58 billion in the last year which reflects the smart decisions of innovative UK companies like those visiting us this week," he continued.
The participating companies are from a wide range of sectors including pharmaceuticals, engineering, dairy farming, education and manufacturing.
The companies are accompanied by Nicky Busst, International Trade Adviser for UK Trade & Investment South West.
"As always, the UK is pleased to be forging trade relations with Australia and is delighted to bring a South West Trade Mission here at this time. There is a great synergy between the buoyant market that Australia boasts and the innovative products and services that UK firms can offer here," said Ms Busst.
Participating companies:
For more information on the South West trade mission, or to speak to any of the visiting companies, please contact:
Melena Dirou E: melena.dirou@fco.gov.uk T: +61 2 8247 2225
Published 29 October 2013