South Sudan: The birth of a nation
Foreign Secretary William Hague has spoken from Juba as the Republic of South Sudan formally secedes from Sudan and becomes an independent sovereign state.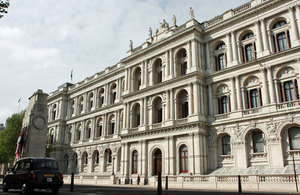 Representing the UK at the independence ceremony the Foreign Secretary said that the UK Government stands with the people of South Sudan "as they seek a future of stability and prosperity".
"The people of the Republic of South Sudan and the Republic of Sudan now have a chance to coexist peacefully as neighbours and to settle their remaining differences.
We urge the leaders of both countries to maintain their commitment to the continuing negotiations, which are essential to building a lasting peace for all the peoples of both Sudans, and to lose no time in addressing the considerable challenges which still remain. They will have the support of the Britain and the international community as they do this."
The Foreign Secretary also announced the opening of the British Embassy in Juba:
Dr Alastair McPhail has been appointed Her Majesty's Ambassador to South Sudan.
Earlier today Prime Minister David Cameron congratulated President Salva Kiir and the people of South Sudan on this "remarkable achievement".
South Sudan's independence comes as a result of a referendum in January 2011 where almost 99% of those voting opted for secession.
There will be many challenges ahead and the UK is committed to working with South Sudan to build a peaceful and prosperous future for all.
Over the next year the British Government is providing £90 million to South Sudan to address humanitarian and development needs. The funding will focus on health, education, economic and financial management, security and justice sector reform, and growth.
Published 9 July 2011