News story
South Sudan joins the United Nations Educational, Scientific and Cultural Organisation
South Sudan joined the United Nations Educational, Scientific and Cultural Organisation (UNESCO) on 27 October after the country's Chargé d'Affaires signed the constitution at the Foreign Office in London.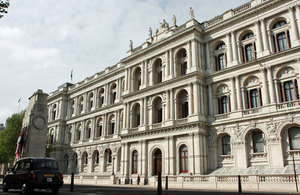 The original constitution is held in London by the UK Government, on behalf of UNESCO. By signing the constitution, South Sudan is pledging to contribute to UNESCO's mission "to contribute to the building of peace, the eradication of poverty, sustainable development and intercultural dialogue through education, the sciences, culture, communication and information."
The signing ceremony was presided over by the UK's Special Representative for Sudan, Michael Ryder, who congratulated Charge d'Affaires Dr Othol on signing such an important pledge on behalf of his country. The meeting was an opportunity for the UK to underline its strong commitment to support the government and people of South Sudan as they continue to tackle the tough challenges facing them as they build their new nation.
South Sudan became the world's newest country on 9 July when it gained independence from Sudan.
Published 28 October 2011