South Sudan: a new country for Africa
Today South Sudan marks its independence to become the world's newest country.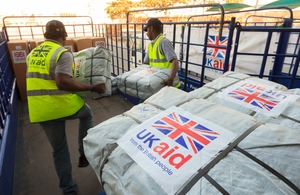 The secession from Sudan follows a nationwide referendum in January earlier this year as part of the 2005 peace deal to end its two-decade long civil war.
Support from the British Government helped to make sure the voting was peaceful, and also helped Southern Sudanese people living in the UK to vote.
UK aid worker, Ben Okello, was one of the three million people who voted for independence. He has lived in Sudan all his life and now works at the Department for International Development's office in the country. "I'm thankful that I was part of the vote that has defined a generation," he says.
Despite the excitement at the creation of a new nation, many problems remain for people living on both sides of the North-South border. The 22-year civil war turned Sudan into one of the poorest countries in the world.
International Development Secretary Andrew Mitchell said:
The birth of South Sudan is a time of celebration and opportunity. The people of the world's newest country face tough challenges but they also have a unique chance to build a new country.

South Sudan starts life as one of the world's poorest nations, with more than half the population living in poverty, but with support from Britain and the international community it can break for good the cycles of desperation which have blighted the lives of Sudanese in the past.
The UK Government will continue to give aid to both the Republic of Sudan and South Sudan, to help fight poverty in both countries. Full country plans are due to be published shortly and will set out the direction of British support.
After visiting Sudan in May, Andrew Mitchell said:
"The UK is determined to help improve the lives of the Sudanese people.  But only if peace is kept and conflict avoided, will development succeed and those lives truly be improved."
Published 9 July 2011