News story
South East England Development Agency Non-Executive Directors Continuing to serve on the Board
Keith Riley Deputy Chair, Dr Dolores Byrne OBE and Imtiaz Farookhi will serve from 14 December until the RDA closes. The Minister commented…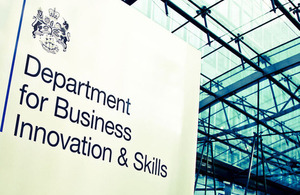 Keith Riley Deputy Chair, Dr Dolores Byrne OBE and Imtiaz Farookhi will serve from 14 December until the RDA closes.
The Minister commented:
"As we move toward a new framework for our regional economies, it is important that the development agencies are equipped with the leadership to ensure the transition period is a smooth one.
"The skills and experience of these board members will be a valuable asset during this time and I hope they will continue to work with us to ensure an efficient evolutionary process."
---
Rob Douglas, Chair of SEEDA, said:
---
"With the abolition of the RDAs now announced by the Government, it is essential that we have continuity on our Board as we take on the challenging task of transferring our functions to our various successor bodies, whether national or local.
"I am delighted that my colleagues have agreed to be re-appointed. They all bring invaluable experience with them, which will help the Board provide critical support to the Executive and ensure that we help maintain the economic wellbeing of the South East during a difficult time"
Notes to Editors
Regional Development Agency non-executive Board member posts
attract a remuneration of £8,666 per year for a minimum time commitment of two days per month.
Final closure of the RDAs is likely to be completed by 31 March 2012 following legislation.

RDAs are business led organisations, promoting and co-ordinating economic growth and development, enterprise and regeneration.

The Coalition Government has made the decision to support the
creation of local enterprise partnerships to replace RDAs. On that basis the decision was made not to continue with further Board member recruitment. The continued terms are necessary to ensure that the RDA Chairs are able effectively to manage their Board membership up until closure, and that membership does not fall below the minimum requirement of eight, as stated in the Regional Development Agencies Act 1998.
The original appointments were made following open competition in accordance with the requirement set down in the Commissioner for Public Appointments Code of Practice. All appointments are made on merit and political activity plays no part in the selection process. However, in accordance with the original Nolan recommendations, there is a requirement for appointees' political activity (if any declared) to be made public.

Keith Riley, Dolores Byrne and Imtiaz Farookhi have not declared any political activity undertaken during the past five years.

Imtiaz Farookhi holds a further ministerial appointment as Board member of the London Thames Gateway Development Corporation, chairing the audit and risk committee. The post attracts remuneration of around £20k per annum for a time commitment of two days a month. Keith Riley and Dolores Byrne do not hold any further ministerial public appointments.
Biographies:
---
Keith Riley is Managing Director, Group Technical Services of Veolia Environmental Services plc and has wide experience in recycling & waste management, particularly working with local authorities. Notably, he worked with the Hampshire local authorities as Managing Director of Hampshire Waste Services, the private sector partner in Project Integra, that put the county and cities of Portsmouth & Southampton at the forefront of good practice in the UK.** **Keith holds degrees in engineering from Queen Mary College, University of London, and in social sciences from the Open University. He is a Fellow of the Institution of Mechanical Engineers, a Fellow of the Royal Society of Arts, a Member of the Chartered Institution of Wastes Management and is a Chartered Mechanical Engineer. Prior to joining Veolia he worked within both large and small companies, including holding senior positions in some blue-chip engineering companies such as Babcock and Rolls-Royce, where he gained extensive experience working overseas. Keith is Chairman and Trustee of the Resource Recovery Forum, a Trustee of the Veolia Environmental Trust and Trustee of Hampshire Natural Resources Trust. He also serves as an industrial advisor to several universities on resource and wastes management.
**Dolores Byrne **has spent over twenty five years working in the high technology sector, both in government and in industry and is currently MD for Innovation in QinetiQ, an international defence and technology company.Dolores graduated in Physics from Queen's University Belfast and also holds a MBA from Southampton University. She is a Fellow of the Institute of Engineering and Technology, a Fellow of the Institute of Physics and a Chartered Engineer. Dolores was a school governor for seven years. She chairs the Science, Engineering and Technology Advisory Council of SEEDA. Dolores was awarded an OBE for Services to defence and to science in the New Years Honours List 2007.
---
Imtiaz Farookhi has been Chief Executive of NHBC since 1997, which provides warranty, risk management and regulatory services to the UK house building and wider construction industry. He was born in Washington DC, and was educated at the Universities of Kent and London. A former Board Member of the Environment Agency and of the Learning and Skills Council, Imtiaz has substantial experience in both urban regeneration and post 16 Education Policy. He has also served on the Further Education Funding Council, on several public private partnerships, as a non-executive on a Training and Enterprise Council and on Business Link. He is currently Chairman of the National Skills Forum for Construction and the Built Environmental, and a Board Member of CITB - Construction Skills. As NHBC's Chief Executive, Imtiaz plays a key role in highlighting issues facing UK house-building such as skills shortages, sustainable development and customer service. He has developed and extended NHBC's range of services and restructured its operations with sustained growth in turnover and balance sheet strength. He has also instigated a review of NHBC's services and a restructuring of its operations.
Notes to Editors
Contact Information
Name BIS Press Office Job Title
Division COI Phone
Fax
Mobile
Email NDS.BIS@coi.gsi.gov.uk
Published 26 July 2010