World news story
South African Development Community Infrastructure Report launched
On Wednesday the 13th of March, 2013, the South African Development Community Infrastructure Report was launched at Lancaster House in London.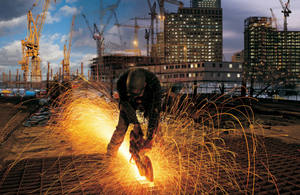 The objective of the event was to raise awareness within the British business community of the infrastructure projects planned for Southern Africa as set out in the recent Southern African Development Community (SADC) Infrastructure Master Plan.
Andrew Henderson, British Trade Commissioner at the UK Trade & Investment (UKTI) in South Africa said:
"During the 32nd Southern African Development Community (SADC) Ordinary Summit in August 2012, the Heads of State and Government adopted a Regional Infrastructure Development Master Plan (RIDMP). This ambitious plan, partly funded by the UK Department for International Development (DFID), aims at addressing the critical gaps in Southern Africa's infrastructure.
The three stage plan (2013- 2027) covers six priority sectors – energy, transport, ICT, meteorology, water and tourism with an initial investment target of $US64.15bn for the short term action plan (2013 to 2017) and an overall total of between US$ 428bn and $US 558bn.
As part of the UK Government's core policy on Commercial Diplomacy and its' commitment to working with and supporting SADC, the Master Plan is seen as a fantastic opportunity for us to work together.
Therefore based on the Master Plan and funded by the Foreign and Commonwealth Office (FCO) in partnership with UK Trade and Investment (UKTI) and the SADC Secretariat; Ernst & Young were commissioned to provide a report identifying those projects which offered the best match with UK capabilities in infrastructure provision – including financing, project development and supply chain involvement.
Our objective then, and is, to raise awareness within the British business community of those infrastructure projects planned for Southern Africa which offer the best opportunity for them and the best quality and value for SADC.
The report, as previously mentioned, is designed to identify those projects that have the best fit between UK capability and SADC requirements – it is by no means exhaustative or definitive in terms of the totality of projects within the Master Plan. I would certainly recommend all those companies here today to look at the full list of projects within the Master Plan.
The main findings of the report will be presented this morning as per the programme provided to you. There will also be an opportunity at the end, before the networking lunch, to ask any questions that you may have for the speakers.
The publication of this report and the event today are concrete examples of the UK Government's commitment and support to SADC and the British business community. I very much hope you find it informative, valuable and ultimately rewarding".
The UK High Commissioner to Mozambique, Shaun Cleary, said:
"Hopefully all of you here today will now be keen to get back to your offices to look through the report in detail – as well as enjoy the networking and lunch that are next.
Whilst you don't have to watch, read or listen to any news media for long to hear a story about China or India, Africa is evermore in the headlines as well, be it economically, politically or socially. With a population of over 274million people and a GDP of roughly US$575bn (World Bank 2010), SADC's importance and influence within Africa cannot be underestimated.
From reading the report I am sure you will also gain a similar opinion from the size, scale and importance of the infrastructure projects that have been detailed.
As Brunhilde from Ernst & Young detailed in her presentation, the majority of projects within the report are within the energy, water and transport sectors but the opportunities and need cover much broader infrastructure. The UK's own National Infrastructure Plan was updated in 2011 to cover some 500 projects crucial to the UK's stability and prosperity in the coming years.
Quoting from the 2011 Plan, "Infrastructure networks form the backbone of a modern economy and are a major determinant of growth and productivity". This applies equally to SADC as it does to the UK. Infrastructure not only addresses key needs within a country such as energy, water and transport as Brunhilde from Ernst & Young pointed out, it creates social stability, employment and economic growth.
However, as we have learnt here in the UK through our own mistakes and successes in infrastructure development, key components need to be taken into account. Prioritising and linking of projects within a wider strategy and not in isolation – as SADC's Master Plan sets out. The combination of public and private financing as well as aid funding. Efficient and cost effective delivery. All of these are areas that the UK has experience and expertise in and can bring to SADC.
SADC as a region I am sure you will all agree is where the UK, both at a Government and business level, can bring support and expertise to work in collaboration with the member countries to help benefit and develop the region even further.
I hope you all found today informative and stimulating and that it has fired further interest in SADC and the infrastructure projects that are taking place there.
A final thank you to our speakers today, all of which have traveled from Southern Africa to be here today. Please enjoy the lunch and hopefully some thought provoking and motivating discussion".
Published 22 March 2013