South Africa: Centenary of the African National Congress
Foreign Secretary William Hague sends congratulations to South African Minister for Foreign Affairs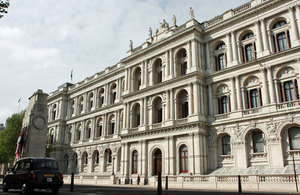 The Foreign Secretary, William Hague, has written to Her Excellency Nkoana-Mashabane, Minister for Foreign Affairs, Pretoria, to send his warmest congratulations on the centenary of the African National Congress.
In his letter of 8 January the Foreign Secretary said:
"It is an occasion to look back and to celebrate the achievements of the ANC over its distinguished century of struggle against oppression. I am proud of the support, moral and material, that the British people provided to the ANC and its fight for freedom during the darkest days of the Apartheid regime.
"But it is also an occasion to look ahead to the future. I know the Government of South Africa, led by the ANC, will continue to espouse the cause of those who suffer under discrimination.
"The example of the struggle of the South African people to build a democratic state based on the will of all the people is one that continues to inspire many all over the world.
"The United Kingdom will stand together with South Africa to work in partnership for peace, freedom and prosperity across the globe."
Published 8 January 2012