News story
Solicitor jailed over bogus college scam
Three people have been jailed for eighteen and a half years for setting up bogus colleges to help illegal immigrants remain in the UK.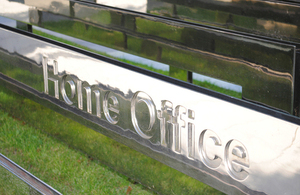 Husband and wife Tiamiyu and Christiana Bello, aged 75 and 67, were arrested following a raid on a property on New Cross Road in south London in July 2007.
Registered to the address were the 'Academic College of Education' and the 'Academic College of Training and Recruitment,' institutions for which the Bellos were the principals.
Collection of bedsits
Officers soon discovered that the building was a collection of bedsits and there was no evidence of lessons being taught there.
During a search a large number of documents were seized, including letters purporting to be from the 'Academic College of Education' and counterfeit qualification certificates.
Thirty-nine-year-old solicitor Adeyinka Adeniran was later arrested following a search of his London office. Many of the files seized from that address contained documentation from the Bellos' college.
The scam, which continued for several years prior to their arrest, involved the supply of fake qualification documents which were then used to support visa applications to the Home Office. Many applicants were then represented by Adeniran through his legal practice.
Eleven week trial
Following a eleven week trial at Croydon Crown Court, Tiamiyu and Christiana Bello were found guilty of conspiring to assist unlawful immigration and conspiracy to possess articles for use in fraud. They were both sentenced to five years in prison.
Adeniran was found guilty of conspiring to assist unlawful immigration. Described by the judge as a 'disgrace to his profession,' he was sentenced to eight and a half years behind bars.
The London Immigration Crime Team is a specialist unit of police officers seconded from the Metropolitan Police working alongside UK Border Agency officers.
Anyone with information about immigration crime should contact Crimestoppers on 0800 555 111 or visit the Crimestoppers website where you can remain anonymous.
Three jailed over bogus college on Flickr
Published 13 December 2010