News story
Soldiers get fighting fit with new dining facilities in Colchester
Soldiers at Colchester Garrison are getting high-quality meals that will help them stay fighting fit and put money back into their pockets.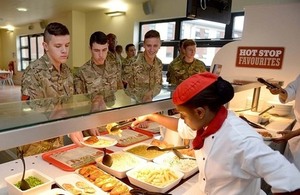 The Defence Infrastructure Organisation (DIO), working with industry partners RMPA and Sodexo Defence, has delivered 2 new 'pay as you dine' (PAYD) restaurants at Merville Barracks.
And, in addition, a new coffee shop, the Eagles Rock Café, which was funded by the Colchester Garrison welfare committee, has opened at the community centre in Fallowfield Road and is where armed forces' families can enjoy a hot drink or lunch with friends.
Merville Barracks is the latest army establishment to implement PAYD, which allows military personnel to only pay for what they consume. Serving soldiers previously paid a flat rate per month for their food, even if they do not eat 3 meals a day. The new system removes the monthly food charge and puts that money into their pockets.
The new dining facilities have extended opening hours and give flexibility, availability and control to soldiers over when they dine, what they buy and how much they pay.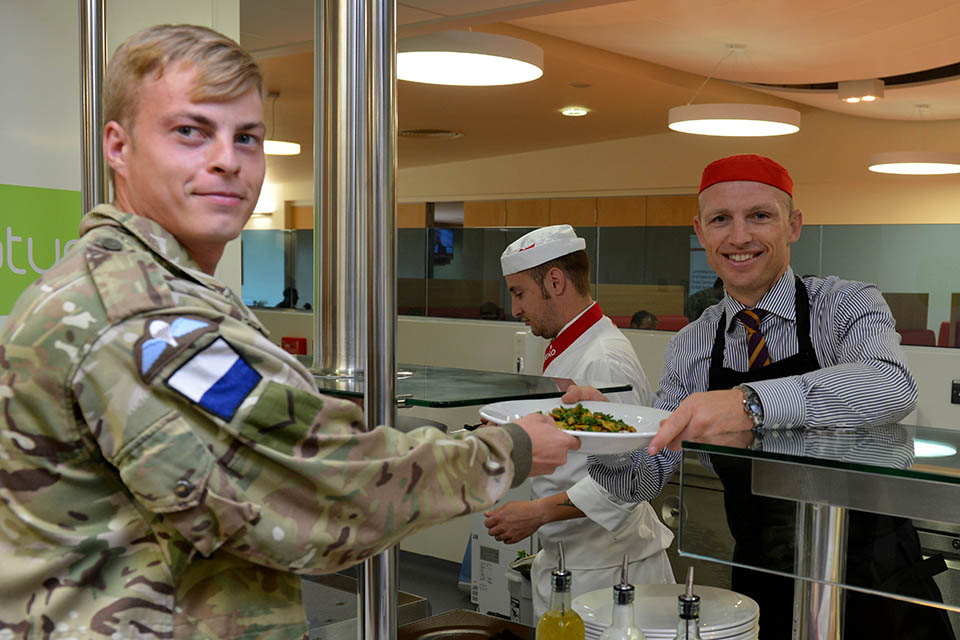 The new junior ranks catering facilities, renamed 'Montgomery' and 'Browning', were opened by the DIO's Major General Mark Armstrong. He said:
DIO provides a range of services to our armed forces that support effective operation of defence infrastructure across the UK and beyond. As a former commanding officer in 16 Air assault Brigade with soldiers based in Colchester it is a delight to see the introduction of such a modern dining opportunity.

Our work with Sodexo Defence at Merville Barracks demonstrates our progress in delivering clear improvements to the way MOD provides catering, retail and leisure services to military personnel and the wider armed forces community.
Corporal Susie Vipond, of Colchester-based 16 Medical Regiment, said:
The facilities are much improved and more sociable, with a wide variety of good value quality food. I'm impressed.
The Eagles Rock Café was opened by former England rugby international and BBC 'Question of Sport' star Matt Dawson, Sodexo's health and well-being ambassador.
Earlier in the day he had joined soldiers from Colchester's 13 Air Assault Support Regiment Royal Logistic Corps as they gave a demonstration of rugby and military fitness to children from Montgomery junior and infant schools, which have a majority of children from military families.
Colonel Gary Wilkinson, commander of Colchester Garrison, said:
We are committed to providing the best facilities possible across Colchester Garrison for both soldiers and their families.

At Merville Barracks, the new dining facilities will provide troops with better choice and control over what they eat; while the Eagles Rock Café represents a significant improvement to the facilities for our families in Colchester and is based on what they have asked us to provide.

The Eagles Rock Café is a facility suitable for everything from friends meeting informally for a coffee, to gatherings organised by unit welfare teams, to a suitable venue for appropriate functions; and we hope that it will very quickly become the heart of the garrison community.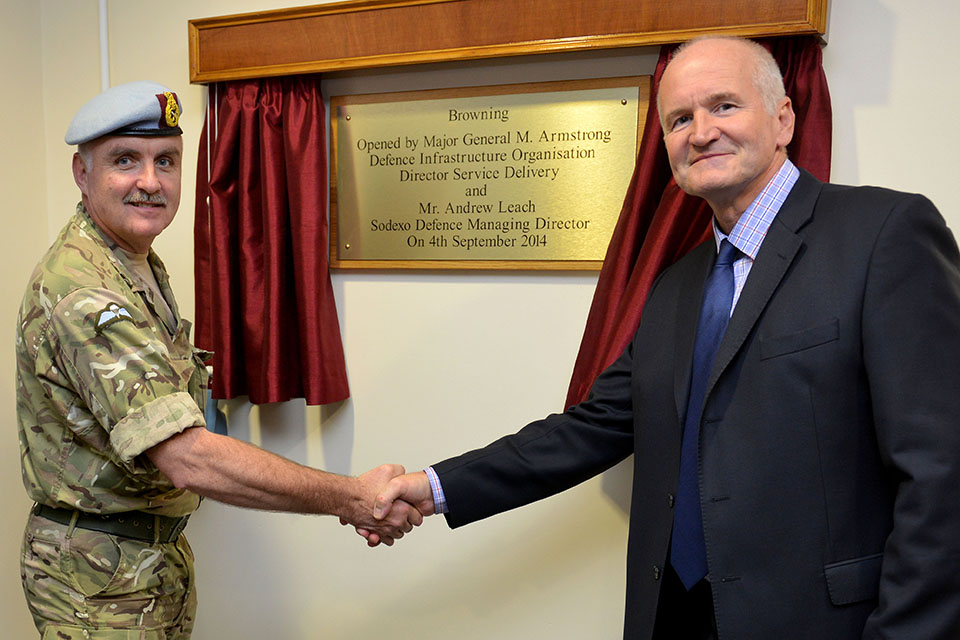 Improvements to catering facilities at the barracks are part of the 35-year Colchester private finance initiative. Andy Leach, Managing Director Sodexo Defence, said:
Sodexo is delighted to be working in partnership with the DIO to bring the kind of up-to-date, high-street-style dining facilities and food offers that the armed forces community in Colchester Garrison deserves.

Our flexible dining options are designed to suit the high tempo nature of service life, but also to provide a warm welcome to the wider armed forces community, including service families, civil servants and contractors.

Our investment in these new facilities, with an emphasis on high-quality, value-for-money balanced meals and personalised, 'cook to order' dishes, will further support our ambition to improve the quality of life for everyone in Merville Barracks.
Published 5 September 2014