Soldiers commended by Canadian police for saving stab victim
Five soldiers from 4 Logistic Support Regiment have been commended for saving a stab victim's life in Canada by ingeniously using credit cards to treat his chest wounds.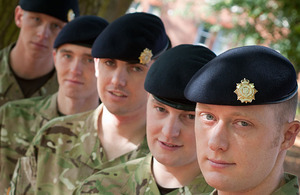 The five soldiers from the Abingdon-based unit were serving in Canada over the summer taking part in training for Afghanistan.
One night they witnessed a serious bar brawl in the city of Calgary where a male civilian was stabbed repeatedly about the body. Immediately recognising the life-threatening nature of his chest wounds the British soldiers intervened and, using their operational medical training, managed to stabilise him by using credit cards to treat his sucking chest wounds.
British troops receive intensive medical training ahead of their deployments to Afghanistan, of which, the treatment of sucking chest wounds is a high priority. Usually caused by gunshots, the procedure uses the application of an Asherman Chest Seal purposely designed for the job, but in this case they used their ingenuity to creatively make one out of credit cards. It kept the man alive until paramedics arrived on the scene.
All five: Sergeant Terence Wall, Lance Corporal Sam Neil and Privates Ben Regan, Lee Wingrove and Cai Thomas, received an 'Exceptional Recognition' award on behalf of Calgary's Chief of Police from their Brigade Commander, Brigadier Justin Maciejewski, who commented:
I'm extremely proud of the action of these soldiers. They epitomise the very best qualities of our soldiers. They showed considerable moral and physical courage when they intervened.
Published 19 October 2011