Soldier swaps barracks for Olympic volleyball court
A staff sergeant serving with Headquarters 43 (Wessex) Brigade, based in Tidworth, is now on our TV screens as a line judge for the Olympic indoor volleyball at Earls Court.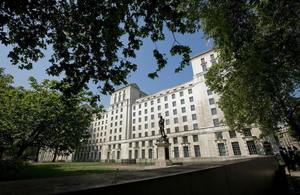 Staff Sergeant John Postance, who is a keen volleyball player and qualified referee, has been involved with the sport for years. He volunteered for Olympics duties well over a year ago and was selected from almost 400 applicants:
I was very excited when I heard that I was going to be a part of the London 2012 Olympic Games. It was a strange feeling to begin with and then it hit home," said SSgt Postance.

I have been playing volleyball for quite a number of years and qualified as a referee and volunteered for the Olympics. We were tested at a number of national and international events over the last year and whittled down to just 26 of us.
SSgt Postance has to have his wits about him; it takes just 0.25 seconds for the ball to travel from the net to the baseline. And there is no 'Hawk-Eye' technology, so the line judges have to be careful to make the right decision every time.
To keep the identity of the judges secret before the matches, there are just numbers assigned to each match and the judges will be told later which number they are so they cannot be approached by teams beforehand.
You have to keep fit for this," SSgt Postance continued. "I play volleyball at least twice a week as well as judging.

My last match was Great Britain against Albania. Judging at this level is phenomenal; you can't imagine how exciting it is and how your nerves kick in, but once you start it's a 100 per cent concentration - if your mind wanders at any time you stand a chance of missing something.
SSgt Postance is not allowed to mix with any of the Olympic volleyball players during the Games:
They are all massive athletes," he said. "I was surrounded by the United States team at one game I refereed and I felt small beside them; and I am six-foot-one [1.85 metres] and they towered over me.

This is a once-in-a-lifetime opportunity and I am proud to have been selected," he added.
Published 8 August 2012