News story
Soldier from the Royal Electrical and Mechanical Engineers dies in Afghanistan
It is with great sadness that the Ministry of Defence must announce that a soldier from 104 Force Support Battalion, attached to 4 Close Support Battalion, Royal Electrical and Mechanical Engineers (REME), died in Afghanistan today, Friday 21 September 2012.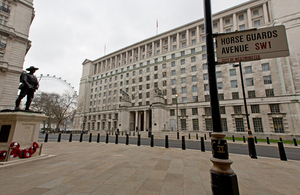 A full investigation into the circumstances of the incident at Camp Bastion in Helmand province is ongoing, but at this stage the death is not thought to have been the result of hostile action.
Spokesman for Joint Force Support (Afghanistan), Lieutenant Colonel Richard Parry, said:
It is with deep sadness that I must report the death of a soldier from 4 Close Support Battalion, REME, at Camp Bastion, Helmand province.
"The condolences of all personnel serving with Joint Force Support (Afghanistan) are with the soldier's family and friends at this extremely difficult time."
The soldier's next of kin have been informed and have asked for a period of grace before further details are released.
Published 21 September 2012