Social Mobility Strategy launched
Deputy Prime Minister Nick Clegg has unveiled the Coalition Government's Social Mobility Strategy.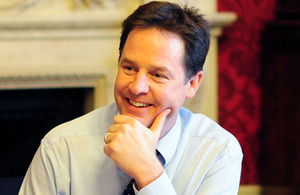 The new strategy aims to ensure everyone has a fair opportunity to fulfil their potential, regardless of the circumstances of their birth.
The Social Mobility Strategy - Opening Doors, Breaking Barriers focuses on inter-generational social mobility ensuring that everyone has a fair chance get a better job than their parents.
It aims to tackle unfairness at every stage of life with specific measures to improve social mobility from the Foundation Years to school and adulthood.
Mr Clegg said:
Fairness is one of the fundamental values of the Coalition Government. A fair society is an open society where everybody is free to flourish and where birth is never destiny.
The Government has also published its child poverty strategy Tackling the causes of disadvantage and transforming families' lives. A year after the Child Poverty Act, it sets out how the Government will transform people's lives by breaking the vicious cycle of deprivation.
As part of this agenda, a new Social Mobility and Child Poverty Commission has been established, strengthening the role of the Child Poverty Commission in holding the Government to account.  The Commission will report to Parliament and monitor and drive progress towards ending child poverty, improving life chances and increasing social mobility. 
A set of key indicators has been included in the social mobility strategy, for the first time defining how social mobility is measured so that the Government can see where we are having the most impact and need to adjust the approach. These indicators will be included in departmental Business Plans, so that social mobility is placed at the heart of Whitehall policymaking. 
In contrast to previous approaches, the social mobility strategy sets out progressively to tackle the causes of poverty rather than just the symptoms. The social mobility and child poverty strategies provide a powerful spring-broad for progress towards creating fairer opportunities for everyone. 
Read the press release: Government determined to open doors of opportunity
Published 5 April 2011