Soccer Aid: UK aid match helps UNICEF save more lives
How we're helping to double your donations.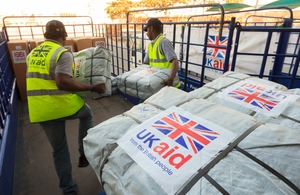 Update: Thanks to the British Government matching all public donations pound for pound, ITV1's football fundraiser, Soccer Aid 2012, has smashed all previous fundraising records set by the biennial event.
Soccer Aid 2012 has raised over £4.9 million for UNICEF's vital work to save some of the most vulnerable children around the world. The money raised by this year's event will be spent helping UNICEF provide food, vaccines and other critical supplies. 
Amongst the children benefiting from Soccer Aid money this year will be children affected by the food crisis that continues in West Africa. Just £5 will help provide a week's supply of lifesaving emergency food to help bring a severely malnourished child back to health.
Soccer Aid 2012 took place at Old Trafford on 27 May 2012 and was broadcast live on ITV1. The match saw celebrities and football legends team up to play a game of football whilst raising crucial money for UNICEF. 
Star players including Will Ferrell, Gerard Butler, Woody Harrelson, Mike Myers, Jason Isaacs, James McAvoy and Edward Norton alongside team captains Robbie Williams and Michael Sheen in the match which resulted in England defeating the Rest Of The World 3-1.
Michael Sheen, the Rest of the World captain and star of The Queen and Twilight, added:
It was amazing to get back on the Old Trafford pitch this year and, despite not retaining our trophy from 2010, it was the most incredible year yet.

Thanks to the pound for pound matching from the UK Government we were able to raise more money than ever before which will help UNICEF reach so many more children with life-saving care like vaccines and emergency food.
Robbie Williams, UNICEF UK Ambassador and co-founder of Soccer Aid, said:
I'm still basking in the glory of England's win and so pleased that this has been the best Soccer Aid yet with almost £5 million raised for UNICEF - for children. Thank you so so much to everyone who donated on the night or bought a ticket to the match - we couldn't have done it without you.
Published 6 September 2012