Press release
Smoother surface for busy section of M55
A smoother and more reliable road surface will benefit drivers on a busy section of the M55 between Fulwood and Kirkham.
This news article was withdrawn on
This document is no longer current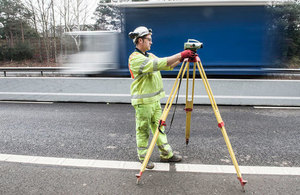 The Highways England scheme is due to begin on Saturday 16 January and will improve the condition of the road, ensuring fewer disruptions for repairs in the future.
A one mile stretch of the eastbound carriageway to the east of junctions 3 is to be resurfaced.
The work to introduce the new surface, and to replace drains, is scheduled to last around 4 weeks, subject to suitable weather conditions.
Project manager Peter Gee, said:
The new surface will be a considerable improvement on what is already there. The current road surface is at the end of its life and the new, durable surface will mean we won't have to go in so often to make repairs.
The hard shoulder and one lane will be closed for the duration of the work and a temporary 50 mph speed limit will be in place in the remaining lanes for the safety of drivers and construction crews.
Five full night closures are planned for Saturday 16 and Sunday 17 January and Friday 5, Saturday 6, and Sunday 7 February. The closures will take place from 8pm until 6am on weekdays and until 8am at weekends.
Drivers are being asked to plan ahead and extra time should be allowed for the journey.
General enquiries
Members of the public should contact the Highways England customer contact centre on 0300 123 5000.
Media enquiries
Journalists should contact the Highways England press office on 0844 693 1448 and use the menu to speak to the most appropriate press officer.
Published 13 January 2016