Smart Cities workshop shares advances in research projects in Lima
A British team of PHD researchers from the Centre for Low Carbon Futures joined researchers from the Universidad Agraria and Universidad Católica to discuss the potential of low carbon emissions investments identified for the capital city of Lima.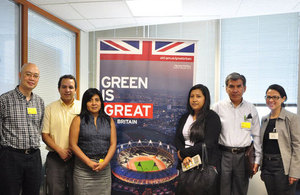 From 14 to 21 February, UK based post doctoral researchers from the Centre for Low Carbon Futures delivered a workshop on the recent advances in their work in Lima. Researchers from University of Leeds (Paola Hernández Montes de Oca and Dr Marco Sakai) Catholic University (Sofía Castro) and University Agraria (Cayo Ramos) are using past inventory data to identify low carbon and water efficiency investments that could potentially be applied in the city, with assessment of performance, and costs and benefits of each measure over their lifetime. The workshop took place at the British Peruvian Chamber of Commerce as part of the Centre's projects in Lima, which receive funding from the British Embassy.
The methodology was assessment measures against wider range of criteria (i.e. social acceptability, political feasibility, administrative viability equity and distributional aspects, wider sustainability dimensions). Participants came up with proposal of 'best' options against the range of criteria.
"We are very glad for the feedback we're getting from the attendees, especially because it will contribute positively to the project's output in March of this year," said Dr Paola Hernández Montes de Oca. Participants included representatives of the Ministry of Environment, the Ministry of Energy and Mines, and the Municipality of Lima, who are actively involved in the project. The Centre for Low Carbon Futures is actively trying to change Lima's old approach of "grow now, clean up later."
Both CLCF and two local Peruvian universities are in charge of delivering the results of a Climate Smart Cities report for Lima, which aims to evaluate 10 cities around the world –Lima included–to develop the economic and social case to stimulate green growth. The workshop covered different industries (energy, housing, trade and transport) and sectors such as water and solid waste.
The workshop was organised in the lead up to this year's COP 20 summit in December. All parties involved expect these projects to be put into practice by ministries and senior Peruvian authorities, as Lima is one of the cities that is about to be evaluated by the Centre for Low Carbon Futures in 2014.
Published 27 February 2014