News story
Small businesses should be making more of the 'green channel'
The Minister set out the challenge on a series of visits to companies in Surrey that are successfully using their intellectual property to add…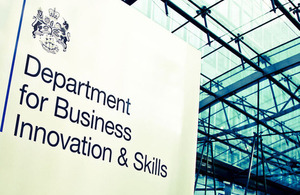 The Minister set out the challenge on a series of visits to companies in Surrey that are successfully using their intellectual property to add value to their business. Baroness Wilcox praised Gordon Murray Design for its use of the 'green channel' which has allowed the small company to get its product off the ground faster and go on to produce low-cost, environmentally-friendly cars which use recycled plastic bottles in the cars' body panels.
Baroness Wilcox said: "It's tremendous to see how an idea has been turned into an actual business product swiftly and efficiently. By using the 'green channel', an environmentally friendly idea and novel approach to manufacturing is being brought to market quickly, helping to deliver real value and growth to a typically inventive small British firm.
" Protecting your intellectual property, and maximising its economic potential, makes a real impact especially for small companies which are the lifeblood of the UK economy."
Gordon Murray Design is an innovative small firm which has recognised the value in protecting their creative ideas. They designed and developed the iStream® automotive manufacturing process which they are beginning to licence out so that other companies can invest in, manufacture and deliver their environmentally friendly cars. They successfully used the 'green channel' to obtain UK patents which meant they were processed faster because the invention had an environmental benefit, and allowed them greater protection and more freedom to get the benefit from their ground-breaking car.
Gordon Murray said**: **"iStream® manufacturing technology has created an opportunity for Gordon Murray Design to construct a unique IP model in the automotive sector".
Baroness Wilcox also visited
Connect 2 Innovation, a company which has successfully worked with Gordon Murray Design to develop intellectual property strategies and licensing agreements.
Surrey Satellite Technology Ltd, the world's leading small satellite company and a manufacturer of small space missions and technology.
Final stop of the day was at the University of Surrey where Baroness Wilcox visited the South East IP project, a previous winner of the Intellectual Property Office's Fast Forward competition. The Minister was given a demonstration of the project along with an account as to how the funding allowed the partners to share research, best practice and encourage knowledge transfer between universities, public sector research establishments and business.
Notes to editors
Photos of the Minister's visit can be accessed here www.flickr.com/photos/bisgovuk/

The Intellectual Property Office (IPO) is within the Department for Business, Innovation, and Skills (BIS) and is responsible for the national framework of IP rights, comprising patents, designs, trade marks and copyright.

Its role is to help manage an IP system that encourages innovation and creativity, balances the needs of consumers and users, promotes strong and competitive markets and is the foundation of the knowledge-based economy.

It operates in a national and an international environment and its work is governed by national and international law, including various international treaties relating to IP to which the United Kingdom is a party.

Connect 2 Innovation is one of seven regional delivery partners for the BIS Business Coaching for Growth programme.
Notes to Editors
Contact Information
Name BIS Press Office Job Title
Division COI Phone
Fax
Mobile
Email NDS.BIS@coi.gsi.gov.uk
Name Veena Mapara Job Title
Division Department for Business, Innovation & Skills Phone 020 7215 5614 Fax
Mobile
Published 15 March 2012