Press release
Slurry pollution costs Beccles farmer almost £12,000
Twice in the spring of 2013 dairy farmer Gerald George Godfrey polluted a stream close to his land.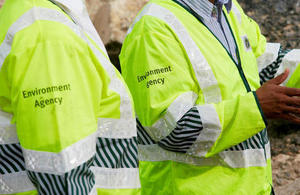 Lowestoft Magistrates' Court has fined him a total of £6,000 with £5,839 costs and £120 victim surcharge for the pollution incidents.
He pleaded guilty to his partnership business FJ Godfrey & Son allowing slurry to overflow from a storage lagoon in April and letting it run off land through an unknown field drain after spreading in May.
The slurry turned the water dark brown and made it smell, prompting reports to the Environment Agency whose officers then investigated.
Same watercourse
Mrs Claire Corfield, prosecuting for the Environment Agency, told magistrates the first pollution happened when dirty water overtopped the slurry storage lagoon, ran across a field and went into the tributary during exceptional winter rainfall.
In May slurry ran off a field into the same watercourse after spreading on one of the farmer's fields.
Mrs Corfield said:
The lagoon was poorly maintained and the defendant failed to carry out routine checks. There were no clear procedures for preventing an overflow.
Since the incidents the company – a partnership between Godfrey, who ran the farm day to day, and his sister – has increased its storage space.
After the hearing Environment Agency officer Ben Marshall said:
Although it was an exceptionally wet winter, it still remains the responsibility of farmers to prevent polluting nearby watercourses.

These incidents caused long-term pollution by highly polluting dirty water and slurry.
Published 24 June 2014