News story
Slice of exports for ambitious Inverness business
Scottish Secretary visits growing Highland company with global ambitions.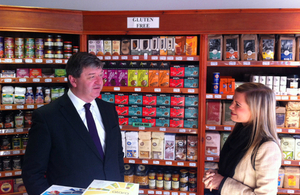 Encouraging entrepreneurship across Scotland is a key priority Alistair Carmichael said today as he visited an Inverness business with global aspirations.
The Scottish Secretary was speaking after meeting Kirsty Gillies, the owner of Angelic Gluten Free at Highland Wholefoods. The firm is a worker's co-operative which acts as a distributor across the North of Scotland and the Scottish Isles.
Founded in 2011, Angelic Gluten Free retails a range of gluten, wheat, egg and dairy free cookies and savoury biscuits.
Starting from a kitchen in Inverness, the company has grown rapidly and now has products available in 300 stores in the UK and Ireland. Building on overseas distribution through a Surrey-based wholesale partner, the company began exporting to the Czech Republic, Malaysia and Portugal.
Mr Carmichael heard about the company's ambitions to increase its exports to Denmark, Germany and the USA over the coming year, helping to fulfil their ambitions of becoming a genuinely international business.
The visit took place during UKTI's export week which features a series of events to help Scottish exporters, including seminars in Glasgow, Edinburgh and Perth and workshops on specific markets.
Mr Carmichael said:
In export week it is fitting to visit a Scottish business which will only see its slice of exporting grow in the years ahead. Angelic Gluten Free is a perfect example of the ambition and entrepreneurship that I am keen to encourage further across the country in my role as Secretary of State for Scotland.

I want entrepreneurs in Scotland to set the bar high; they should see no barriers to exporting and I want them to know the UK Government will be behind them every step of the way.

Scotland benefits from the local support of SDI backed up by access to the UK Government's unique and powerful network of embassies, consuls and offices across the world. As my visit today shows this gives Scottish companies the best of both worlds.
Angelic Gluten Free owner Kirsty Gillies said:
We have already received support from a network of agencies within Scotland and the UK. We are planning to attend the Gulf Food Fair in Dubai early next year to promote our products on a learning journey with UKTI and SDI, and without their support this would not be possible.

From small beginnings in the kitchen, Angelic Gluten Free has experienced success in the UK market, and it is great to have the Secretary of State's support for our ambition to break into the export market.
Published 13 November 2013