News story
Sledgehammers help officers uncover illegal cargo
UK Border Agency officers have found more than one million cigarettes inside concrete blocks.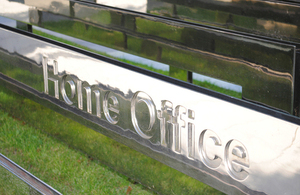 Officers used sledgehammers to uncover a haul of Chinese made cigarettes after becoming suspicious during a routine search on 27 October.
The lorry has now been seized and could be confiscated. The owners may also be liable for a fine.
Enquiries continue into the illegal shipment of cigarettes.
Serious crime links
Andy Lumb, assistant director of the UK Border Agency said: 'This is an excellent result and shows the dedication of our officers that help to make our border controls at ports so robust. The UK Border Agency searches for a range of items, including drugs and weapons as well as cigarettes and tobacco, to keep our border secure.
 
'Cigarettes may be legal, but the smuggling of such goods is often linked to serious organised crime and these groups do not care who they sell them to or what is in them.'
Border force
The UK Border Agency's border force, is a dedicated team of  officers exercising powers for immigration and customs functions working side-by-side to prevent illegal migration and smuggling of illegal goods at the border.
Officers interview arriving passengers to identify possible immigration offenders and are equiped with the latest hi-tech equipment, including x-ray machines,and detector dogs to identify smuggled goods in passengers' luggage.
Report it
Anyone who suspects that people may be involved in drug smuggling should contact Crimestoppers on 0800 555 111 where anonymity can be assured.
Published 1 November 2010