News story
SLC Executive Director of People visits Brighton University
Following the blog by SLC's Deputy CEO on his visit to Derby, Executive Director of People Morven Spalding reflects on her visit to the University of Brighton.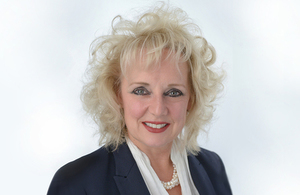 Members of SLC's Executive Leadership and Senior Management teams have been visiting universities across the UK to hear directly from staff and students about their experience of using SLC's services. As part of this engagement programme, I visited the University of Brighton accompanied by Darlington Head of Operations David Thomson, and members of our Operations and Partner Services teams.
In my role as Executive Director of People, my focus is on creating a skilled, motivated and engaged workforce. Understanding the needs of the customers is key to this, and the visit provided a valuable opportunity to get feedback from those who use our services.
The day started with a meeting with Vice Chancellor Professor Debra Humphris and other members of the senior management team. This was a chance to discuss student finance issues affecting Brighton and for me to outline SLC's corporate strategy. During this session we spent time talking about our objective to provide an improved customer service, and I had the opportunity to explain how we are developing our workforce to help deliver this.
This was followed by a focus group with students which was a highlight for me. It was good to hear the students' experience of SLC and I was especially pleased to hear our frontline staff being described as 'excellent' and 'providing a good service.
We also explored some of the factors which can make the student finance journey more complex, including estrangement. This is an area where we have already listened to feedback from students. David updated students on some of the recent improvements we've made which included putting in place a dedicated team of specialist advisors to support estranged students through the application process. It is important that we keep talking to customers about this, and other issues, if we are to deliver an outstanding service that is truly focussed on their needs.
I really enjoyed my visit to Brighton and came away feeling like I had achieved my purpose of gaining a greater insight into the needs of the university and its students. I look forward to continuing to be part of this type of engagement activity as we visit more universities in the future.
Morven Spalding, Executive Director of People
Published 30 January 2020