Press release
Sky lanterns cause Bonfire Night nuisance for farm animals
Bonfire Night revellers are being reminded to think about the problems which sky lanterns can cause before using them. Speaking to the Women…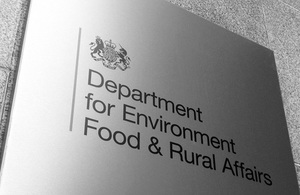 Bonfire Night revellers are being reminded to think about the problems which sky lanterns can cause before using them.
Speaking to the Women's Food and Farming Union today, Environment Secretary Caroline Spelman explained how sky lanterns can seriously injure or even kill cattle because the animals sometimes eat the lanterns' wireframes. There is also the problem of litter caused when the smouldering remnants of lanterns fall into farmers' fields.
Mrs Spelman said:
"Sky lanterns can look beautiful on their way up but they can cause real damage to animals when they come down. I don't want to stop anyone's enjoyment on Bonfire Night but I'd ask them to think about the harm sky lanterns can cause."
The Environment Secretary also spoke of the distress that fireworks can cause animals at this time of year and highlighted some advice for animal lovers to prevent their pets from suffering.
Mrs Spelman added:
"We all enjoy a good fireworks display but sadly many animals don't, because their heightened senses mean that the loud bangs and whistles can cause actual pain in their ears. Animal owners can help to reduce stress for their pets by following a few simple tips such as keeping cats, dogs, rabbits and guinea pigs inside or by keeping horses stabled."
Bonfire Night falls at a time when many wild animals begin to search for somewhere to hibernate for the winter. Before setting fire to their bonfires, people should check for any wildlife such as hedgehogs which may have chosen to hibernate there.
Notes
More detailed advice on pet care over Bonfire Night is available on the Defra website: http://www.defra.gov.uk/wildlife-pets/pets/cruelty/
Caroline Spelman was speaking today at the Women's Food and Farming Union Conference at HSBC Tower in Canary Wharf.
Published 3 November 2011