Announcement
Skills projects will boost growth across the economy
This was published under the 2010 to 2015 Conservative and Liberal Democrat coalition government
Following the first round of applications to the £50m Growth and Innovation Fund, innovative proposals to deliver world class training in seven…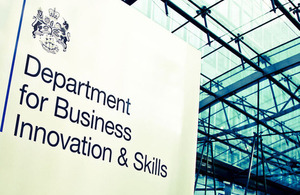 Following the first round of applications to the £50m Growth and Innovation Fund, innovative proposals to deliver world class training in seven leading industries have been selected for further development.
Business planning will now get under way for a new National Skills Academy for Health, which will be led by the Skills for Health Sector Skills Council.

Plans are being developed for existing National Skills Academies to be expanded, with the National Skills Academy for Nuclear embracing nuclear manufacturing and the National Skills Academy for Creative and Cultural Skills expanding into the jewellery, design and heritage industries.

Specific projects with joint employer and public funding are being initiated to boost specialist skills in the fitness and playwork industries.
The above projects will draw on joint funding from employers and the Government, via the Skills Funding Agency.
Secretary of State for Business, Innovation and Skills, Vince Cable said:
"This Government wants business to lead the creation of a world class skills system. I'm pleased that employers have responded by coming forward with innovative ideas for the Growth and Innovation Fund. The fund will target public money, investing alongside business, to deliver workforce skills in new and creative ways."
Meanwhile, the UK Commission for Employment and Skills is working on the detail of potential public investment in further innovative projects with sectors ranging from agriculture to energy and from hospitality to science-based industries. Further details of Growth and Innovation Fund investment in these projects will be confirmed after the summer.
Minister for Further Education, Skills and Lifelong Learning, John Hayes said:
"I first announced the Growth and Innovation fund as part of our Skills Strategy in November 2010. Since then the Government has worked with industry to build the biggest and best apprenticeships programme our country has ever seen, with a new emphasis on advanced skills and high quality training.
"I'm delighted that applicants to the Growth and Innovation Fund have submitted excellent proposals to boost their investment in apprenticeships, and to increase the use of professional standards to improve their industries' growth prospects."
The GIF board is led by UK Commission for Employment and Skills Chair, Charlie Mayfield.
Notes to editors:
The Growth and Innovation Fund was first proposed in the _Skills for Sustainable Growth _strategy in November 2010. The fund will provide up to £50 million of public funding per year in 2011-12 and 2012-13, underpinned by accompanying investment by employers. We are planning a similar level of investment over the subsequent two years of the Spending Review period.
£30m of the Government funding in each year supports the investment fund launched in the GIF prospectus on 7 March 2011, of which around £5m a year will sustain pilot Joint Investment Programmes agreed in autumn 2010 with five Sector Skills Councils. Up to £25m a year is therefore available for new projects.
The other £20m a year from GIF supports the SME Leadership and Management Grant which provides grants (match-funded by employers) to support Leadership and Management training for SMEs and social enterprises.
Applications to the first round of the investment fund were being invited from Sector Skills Councils, Industry Training Boards, formally constituted Sector Bodies, National Skills Academies, Employer Associations, Trade Associations and Professional Bodies. Bids were received in June and, following assessment against the published criteria, investment recommendations were made by the GIF investment board, chaired by Charlie Mayfield, Chair of the UK Commission for Employment and Skills.
National Skills Academies proposals and Joint Investment Programme projects recommended by the GIF investment board move immediately into development, funded through the Skills Funding Agency. In the UKCES-led 'Best Market Solutions' strand for innovative sector projects, the GIF Board has asked the UKCES to conduct detailed negotiations with the relevant employer bodies to finalize proposals. More details on the full set of round one GIF projects will be available after the summer, along with information about the second round of applications to follow later this year.
The GIF prospectus for this first round can be found on the UKCES website at www.ukces.org.uk/gif
BIS's online newsroom contains the latest press notices, speeches, as well as video and images for download. It also features an up to date list of BIS press office contacts. See [http://www.bis.gov.uk/newsroom](http://www.bis.gov.uk/newsroom) for more information.
Notes to Editors
Contact Information
Name BIS Press Office Job Title
Division COI Phone
Fax
Mobile
Email NDS.BIS@coi.gsi.gov.uk