Skills Minister sets out Government commitment to apprenticeships
He told an audience at the Group Training Association England annual conference that the Government was firmly committed to expanding apprenticeships…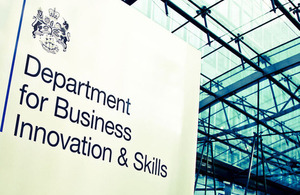 He told an audience at the Group Training Association England annual conference that the Government was firmly committed to expanding apprenticeships and making them more accessible to learners and businesses.
The minister spoke of the role Group Training Associations (GTA) play in helping businesses, particularly small businesses, take on apprentices and challenged them to engage with more employers and get them involved with the apprenticeships programme.
John Hayes said:
"The truest measure of the success or failure of this Government's commitment to apprenticeships will be found in how well-equipped today's young people will be in future years to face the shifting challenges of life and work.
"To be successful in that, we must create a radically new model for workplace training with apprenticeships at its heart and with partnership between Government, employers and individuals as its motive force.
"We have promised to re-shape the apprenticeships programme to ensure that it provides more high-quality training opportunities. We have already begun to deliver on that promise by redeploying £150 million to provide an extra 50,000 places."
The minister told the audience at the Institute of Directors that the Government would expand and improve the apprenticeships programme by building on the existing strengths of the GTA sector.
He has asked the Skills Funding Agency to review what funding they might make available to support the work of GTAs and to help them expand. He told the audience that GTAs can and should play a major role in our drive to increased advanced and higher level skills in growth sectors.
He also invited GTA England to put forward a set of recommendations to him that will help the sector grow in a way that will encourage even more businesses to get involved in apprenticeships and other training.
Mr Hayes said in his speech that the Government plans to reform apprenticeships in order to build on the quality of the training programme, and better meet the needs of employers and learners, and said Government will do this in three ways:
Expanding the number of apprenticeship places on offer and prioritise more advanced skills levels at level three and above;
Take a firm approach in establishing what the employer contribution to apprenticeship programmes should be; and
Make it easier for businesses to access apprenticeships, and in particular small businesses which can take advantage of the support GTAs offer in this respect.
The minister also urged the audience of employers to contribute to the two consultations launched in July. The consultations are gathering suggestions on how the skills system can better meet the needs of employers and learners, and how to simplify the funding system to enable colleges and providers to deliver more efficiency and effectively.
At the conference, the minister also announced that the work of UKSkills, an independent charity which champions skills and learning for work through competitions and awards, is to be come part of the Skills Funding Agency.
UKSkills' activities and staff will be transferred and the Skills Funding Agency will lead a more coherent programme to promote skills and apprenticeships through international competitions and award ceremonies which recognise home grown talent, in partnership with the Devolved Administrations. A highlight will be the WorldSkills 2011 international competition which is being hosted by the UK in London in October 2011.
Notes to editors:
---
The full version of John Hayes' speech at the GTA England conference will be available from the BIS website (www.bis.gov.uk)
If you would like to interview the minister on apprenticeships, please contact press office on 020 7215 5951.
Group Training Associations are not for profit organisations which provide training and related services on behalf of a group of local employers. There funding comes from a variety of means including Government grants.
If you wish to contribute to the skills consultation, Skills for Sustainable Growth, more information can be found here: www.bis.gov.uk/Consultations/skills-for-sustainable-growth-consultation. More information on how to contribute to FE and Skills Funding System and Methodology, use this link: www.bis.gov.uk/Consultations/fe-funding-consultation. Both consultations close on October 14.
UKSkills is a not for profit organisation which champions skills and learning for work through competitions and awards. It promotes the UK's skills successes and manages the UK team for European and International skills competitions EuroSkills and WorldSkills.
The WorldSkills international skills competition is being hosted by the UK next year and takes place in London in October 2011.
UKSkills currently operates as a charity with grant contribution from BIS and is supported by the Devolved Administrations.
The transference of responsibilities of UKSkills to the Skills Funding Agency does not form part of the Cabinet Office's review of Public Bodies.
BIS' online newsroom contains the latest press notices, speeches, as well as video and images for download. It also features an up to date list of BIS press office contacts. See http://www.bis.gov.uk/newsroom for more information.
Notes to Editors
Contact Information
Name BIS Press Office Job Title
Division COI Phone
Fax
Mobile
Email NDS.BIS@coi.gsi.gov.uk
Name Joanna Fletcher Job Title
Division Department for Business, Innovation and Skills Phone 020 7215 5951 Fax
Mobile
Published 29 September 2010