News story
Skills Minister says Olympic apprentices must be given new opportunity
Under Government plans, regulations to the Apprenticeships, Skills, Children and Learning (ASCL) Act 2009 will be submitted to Parliament to…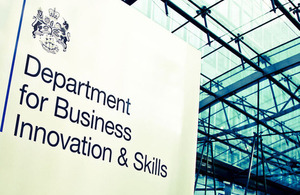 Under Government plans, regulations to the Apprenticeships, Skills, Children and Learning (ASCL) Act 2009 will be submitted to Parliament to allow a special exception to rules that apprenticeships have to be undertaken while in employment.
If supported by Parliament, this will mean that athletes in Olympic, Paralympic and Commonwealth disciplines will be able to take up the Advanced Apprenticeship in Sporting Excellence without needing to be employed in their chosen discipline.
John Hayes said:
"Although my determination is that apprenticeships should ultimately be directly linked to employment, clearly, if we hope for a successful Olympics for this country we will need to nurture sporting talent.
The Advanced Apprenticeship in Sporting Excellence has a good record in developing talented people from all backgrounds to compete at international level. However, there are few opportunities for hopefuls in amateur disciplines to be employed.
"There needs to be flexibility within legislation to free up opportunities for talented sports men and women to pursue their dreams."
__
Minister for Sport and the Olympics, Hugh Robertson said:
"This is very good news for sport. It means that our most talented potential Olympians, Paralympians, and Commonwealth athletes will be able to continue to access Government apprenticeship funding to help their development. This not only demonstrates the Government's commitment to medals in 2012 but also to building a system that will continue to deliver elite success in the long term."
John Hayes made the announcement at the Community and Trade Union Learning Centre at the Olympic Park in London, where he presented awards recognising the achievements of learners at the centre.
The centre, which opened on 21 January 2010, provides learning opportunities for workers on the Olympic site and members of nearby local communities. So far, over 500 learners have enrolled on a variety of courses to help them improve their English, maths and IT skills.
John Hayes added: "The Olympics should not only be viewed as a sporting event, but also as a catalyst for more widespread social and economic change.
"The most important legacy of the Olympics will be found not just in a short-term boost in income and publicity - nor even in medals - but in a longer-term legacy of facilities, sustainable jobs and skills."
The centre, at Pudding Lane Mill, East London, is the result of collaboration between Unionlearn and the Olympic Delivery Authority (ODA).
Notes to editors
1. The Apprenticeships, Skills, Children and Learning (ASCL) Act 2009 will require apprentices to be employed under an Apprenticeship Agreement (a contract of service) as a standard condition of completing an apprenticeship. This part of the ASCL Act will come into effect on 6th April 2011. At present, there is no legal requirement for an apprentice to be employed. The new draft regulations will propose that AASE apprentices in Olympic, Paralympic and Commonwealth disciplines be exempt from the requirement to be employed. The regulations will be laid before Parliament for affirmative resolution in March 2011.
Employment remains a fundamental principle of apprenticeships in England under the ASCL Act, from April 2011. Apprentices must be employed as a standard condition of completing their apprenticeship.
---
2. Unionlearn is the TUC's learning and skills arm which administers the Union Learning Fund on behalf of the Department. It provides strategic direction and a wide range of high-quality support services to help trade unions and their Union Learning Representatives develop their role in supporting workforce development.
---
3. BIS' online newsroom contains the latest press notices, speeches, as well as video and images for download. It also features an up to date list of BIS press office contacts. See http://www.bis.gov.uk/newsroom for more information.
Notes to Editors
Contact Information
Name BIS Press Office Job Title
Division COI Phone
Fax
Mobile
Email NDS.BIS@coi.gsi.gov.uk
Name Alex. Hamilton Job Title
Division Department for Business, Innovation and Skills Phone 020 7215 5976 Fax
Mobile
Published 29 October 2010