Press release
Sixty four per cent of separated parents now choosing to work together
More than 6 out of 10 separated parents using the new Child Maintenance Service are now choosing to make their own financial arrangements.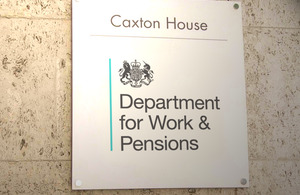 More than 6 out of 10 separated parents using the new Child Maintenance Service (CMS) are now choosing to make their own financial arrangements rather than relying on the state to collect and pay maintenance on their behalf.
Figures out today (18 December 2014) have revealed that the number of parents using Direct Pay rose to 64% in November, up 6 percentage points from August.
At the same time, the number of cases where the state is involved in collecting money from one parent and paying it to another has fallen to 36%.
This shows that a large and growing number of separated parents are choosing to work together for the benefit of their children.
Minister of State at the Department for Work and Pensions Steve Webb said:
We know that children do better when parents work together, even after separation, and I am very encouraged that the new child maintenance system is making this a reality for thousands of families.

Our reforms are providing fairness for children, parents and the taxpayer. These figures show that parents in the system are already responding well to this new streamlined service.

For too long there has been little support for parents to work together, or any incentive for reluctant parents to take their responsibilities seriously. This coalition government, with its commitment to creating a fairer society, is turning around that historic failure.
In total, there were 92,700 cases registered with the CMS in November, a 23% increase on August's figure, which is in line with expectations at this early stage.
When the coalition government came to power, it inherited the Child Support Agency (CSA), which was broken beyond repair and is now being wound down.
Under this system, more than 50% of children living in separated families had no effective financial arrangement in place at all. In 2009/10 more than 500 million was spent transferring just £1.1 billion of maintenance.
In 2012 a new Child Maintenance Service was launched with the aim of ensuring that more money reaches the children who need it, while reducing the huge costs which were previously shouldered by the taxpayer.
With a combination of new incentives, new enforcement powers, new investment in a range of support services and improved administration linking up child maintenance and tax records, the government is helping separated parents to reduce conflict and work together for the sake of their children.
Since November 2013, all clients making an application to the Child Maintenance Service have been obliged to speak first to an agent from Child Maintenance Options, which provides impartial information and support to help separated parents make informed decisions about child maintenance and consider making a family-based arrangement where appropriate.
In addition to the support provided by options, the government is investing around £14 million in a range of support services for separated parents including innovative projects around the country that will help to establish what works best in helping parents to collaborate.
Over the next 3 years, the Child Support Agency will be gradually ending CSA cases and these parents will also be informed about their options for making maintenance arrangements.
Some will decide the new Child Maintenance Service is for them but the government's own research has shown that around half of receiving parents in the CSA could make family based arrangements with the right level of support.
With a reduced caseload, the Child Maintenance Service will be able to concentrate on the most difficult cases, and it means that those parents who feel unable or unwilling to work together will benefit from a modernised and efficient system to help get the money flowing.
Under the new system the government will take stronger action, including enforcement charges, where people deliberately choose to evade their responsibilities. For those parents on Direct Pay, the Child Maintenance Service can move in to enforce payments if arrangements break down.
And charges have been introduced as an incentive for parents to work together and to help cover the costs of the collect and pay service. But no-one who is due to pay child maintenance need pay a penny in ongoing collection fees if they pay what is due in full and on time through Direct Pay.
Contact the Press Office
Media enquiries for this press release – 0203 267 5134
Press Office
Caxton House
Tothill Street
London
SW1H 9NA
London Press Office (national media and London area enquiries only – not questions about personal claims) 020 3267 5144
Out-of-hours (journalists only) 076 59 108 883
England and Wales (local media enquiries) 029 20 586 then 097 or 098 or 099
Scotland (local media enquiries) 0131 310 1122
Press Office on Twitter:
Follow DWP on:
Published 18 December 2014