Six seaside towns get money to kick-start year round jobs
Six seaside projects that will create vital new jobs and local enterprises are the first to receive Government backing to help their coastal…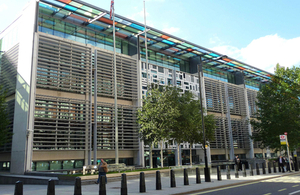 Six seaside projects that will create vital new jobs and local enterprises are the first to receive Government backing to help their coastal town prosper, Communities Secretary Eric Pickles announced today.
The £24million Coastal Communities Fund was launched earlier this year to provide coastal towns with money to help pay for projects that can transform and diversify seaside economies.
Mr Pickles made the announcement on a visit to Bournemouth today to see first hand how one project will use the grant to create Europe's first National Coastal Tourism Academy that will help create hundreds of jobs in the coming years.
The funding can be used for a variety of projects including skills training, apprenticeship schemes and enterprises that rejuvenate seaside assets or that exploit emerging industries.
Today's first round of successful schemes in England will receive grants of up to £2million each to use on projects that creates local jobs, that supports coastal tourism and development and that boosts the inshore fisheries industry.
Mr Pickles also revealed that next year the Coastal Communities Fund will be increased by £4million to £28million, a 17 per cent increase on this year. The fund is open to coastal towns across the United Kingdom and is funded by the Exchequer.
Communities Secretary Eric Pickles said:
There is huge potential in our coastal towns that goes way beyond them only being places we visit for seaside day trips and holidays. We are seeing opportunities being developed all the time by new industries and the Government is determined to help our coastal towns make the most of them.

This money will help those towns tap into these enterprises and create the skills and jobs that will benefit the whole community. We cannot afford to waste this chance which is why the Government is committed to increasing the fund next year.

The successful projects in this first round have enormous potential to make a real difference to their communities that will be far reaching. And this is just the beginning with our fund set to help many more coastal towns in the months to come.
Chief Secretary to the Treasury, Danny Alexander, said:
This first round of successful awards under the Coastal Communities Fund will directly support local communities to regenerate their local area. The fund will enable councils, businesses, charities and social enterprises to create and protect jobs and training opportunities for thousands of people across the UK.

We are today able to announce that the fund will expand again next year to £28million. It is right that the contribution these communities make to the development of the Crown Estate's marine assets is recognised and rewarded and I look forward to another round of successful, innovative bids later in the year.
First round winners
The successful first round winners and their fund allocation are:
Barrow in Furness - £900,000 to support the 'Unleashing Growth in Coastal Furness' initiative which aims to create 275 full-time jobs and more than 85 part time jobs;
Bournemouth Borough Council - £2million over two years to create Europe's first National Coastal Tourism Academy (NCTA). They will also use funds for activities including support for coastal tourism businesses, a resort wide customer care programme and coastal tourism research and development. The project aims to create 165 tourism jobs over three years in Bournemouth and 2,100 nationwide;
National Lobster Hatchery, Padstow, Cornwall - £150,500 to provide four new jobs and 15 training and volunteering opportunities at this social enterprise which maintains and develops the stock of a commercial species of lobster and runs a visitor centre which promotes sustainable and responsible marine management.
RAK Maritime Project in East Anglia - £757,000 to provide maritime training to 63 young people each year over two years to support the renewable energy industry in East Anglia.
South East Food Group Partnership - £25,000 from their £80,000 bid to support the in-shore fisheries industry of South East England under the name 'Local Fish for Local People'. The project will create 15 full-time sales posts for fishermen or family members.
Suffolk County Council - £762,000 to create 200 new employer-led apprenticeships to develop skills needed in the low carbon energy sector in coastal communities in Norfolk, Suffolk and Essex.
Further successful seaside town bidders will be announced later in the year.
The fund is financed by the Government. Money is allocated to England, Wales, Scotland and Northern Ireland on the basis of revenue generated by the Crown Estate's marine assets and is administered and distributed in partnership with the Big Lottery Fund's 'BIG Fund'.
There has been enormous interest in the fund from projects in England with 129 expressions of interest received for this first initial round of funding and a further 501 expressions received for a future round which covers more complex bids.
Notes to editors
The creation of a UK-wide Coastal Communities Fund was announced by the Government last year to provide grants on a bid basis to support the economic development of coastal communities.

The fund is equal to 50 per cent of the revenues generated by the Crown Estate's marine assets. Based on the Crown Estate's Marine revenues in 2010/11 (£47.4million) the overall fund is worth £23.7million beginning in 2012. Funds can be used to support both capital and revenue projects and communities are encouraged to match funds with other pots of money.
The fund is directly linked to the revenue raised in each country. In April 2013 the fund will be broken down as follows:
England, Wales, Scotland and Northern Ireland each have country specific arrangements and work in partnership with the BIG Fund, the non-Lottery funding operation of the Big Lottery Fund, to deliver the money. The Big Lottery Fund has powers to deliver funding from non-lottery sources.

Those eligible to bid for funds include charities, social enterprises, local authorities, local enterprise partnerships and development agencies in the Devolved Administrations, and private sector companies.
Published 14 August 2012