Press release
Six new members appointed to passenger watchdog
Marian Lauder, Bob Linnard, Isabel Liu, Paul Rowen, Professor Paul Salveson and Dr Stuart Burgess appointed to the Passenger Focus board.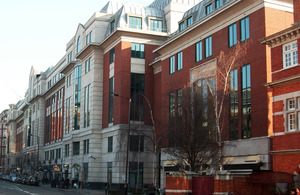 The Secretary of State for Transport, Patrick McLoughlin, today (30 January 2013) announced the appointment of 6 new members to the board of Passenger Focus, the statutory passenger watchdog.
Marian Lauder and Bob Linnard will join the board from 1 February; Isabel Liu and Paul Rowen from 1 March; and Professor Paul Salveson and Dr Stuart Burgess from 1 April 2013.
The Secretary of State for Transport said:
I am confident that the high calibre of these appointees will enhance the work of Passenger Focus, and that the breadth of their experience and expertise will ensure that the passengers' voice continues to be heard loud and clear in government and across the transport industry.
The Chairman of Passenger Focus, Colin Foxall, said:
The new board members offer a wealth of public and private sector experience which will help us in our mission to get the best deal for passengers. These appointments will help ensure Passenger Focus continues to be a strong consumer organisation, useful to industry and government, makes a difference for passengers and continues to offer value for money for the taxpayer.
Marian Lauder is a former senior Army officer who has also recently spent 3 years as chair of a sustainable transport charity, and brings a wide level of experience in delivering effective governance at board level.
Bob Linnard is a recently retired senior civil servant with a deep knowledge of transport policy and people, particularly in relation to rail and local transport.
Isabel Liu has an impressive background in investment, including previous senior positions at John Laing Investment (Hong Kong) Ltd, Bank of America and Citigroup.
Paul Rowen has been a Member of Parliament, Local Councillor and deputy head teacher. He is currently a Director of the Light Rail Transit Association.
Professor Paul Salveson is a rail professional with 35 years of experience in a wide range of sectors and disciplines, including at Northern Rail. He originated and developed the community rail concept and was involved in the establishment of a large number of community rail partnerships.
Dr Stuart Burgess is the Chair of the Commission for Rural Communities and he has also been active in third world debt reduction at the highest levels.
Passenger Focus is the independent public body set up by the government to represent the interests of rail passengers in England, Scotland and Wales, bus and tram passengers in England (outside of London) and passengers on scheduled domestic coach services in England.
Its mission is to get the best deal for passengers through evidence-based research, ensuring the passenger's voice informs decisions and securing improvements to the journey experience. It also provides an effective appeals service for rail passengers and promotes good practice in complaints handling.
Notes to editors
All members of the Passenger Focus Board are appointed in accordance with the code of practice issued by the Office of the Commissioner for Public Appointments.
Each new member has been appointed for a 4 year term. Remuneration will be £12,000 for a time commitment of 4 days per month. One of the new appointees may be appointed as Chair of the Audit Committee when the current incumbent retires and would be eligible for payment of an additional £3,000 to reflect these additional responsibilities.
All appointments are made on merit and political activity plays no part in the selection process. However, in accordance with the original Nolan recommendations, there is a requirement for appointees' political activity (if any declared) to be made public.
Further information about the new board members, including details about other public appointments held and any declared political activity, is available on the Passenger Focus website.
Published 30 January 2013