World news story
Six-Monthly Report to Parliament on Hong Kong: July-December 2016
The UK government published its latest Six-Monthly Report to Parliament on Hong Kong today covering developments from 1 July to 31 December 2016.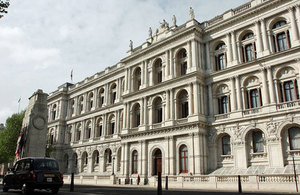 The Report covers a broad range of political and economic developments and an overview of UK/Hong Kong bilateral activity over the reporting period.
Writing in his foreword the Foreign Secretary, the Rt Hon Boris Johnson MP, says:
The 'One Country, Two Systems' arrangement has allowed Hong Kong's distinct way of life to continue, and provided a firm foundation for a flourishing relationship between the UK and the Special Administrative Region in a whole range of areas, from trade and investment to education and science.
He also notes that:
The period under review in this report nevertheless saw a number of developments which caused concern in Hong Kong and internationally with respect to the implementation of 'One Country, Two Systems'. These include the events surrounding the Legislative Council elections and the subsequent oath-taking by elected legislators; and continuing concerns about the exercise of rights and freedoms guaranteed by the Joint Declaration, including freedom of expression and the freedom of the press.
On the deep and enduring relationship between the UK and Hong Kong, the Foreign Secretary notes that:
As the UK government seeks to promote a more global free trade agenda, Hong Kong – as a champion of free trade – will be an even more important partner for us.
The report concludes that "'One Country, Two Systems' continued to function well in the vast majority of areas". On developments that caused concerns over the reporting period, the report concludes that:
For full confidence to be restored in 'One Country, Two Systems', it is essential that Hong Kong enjoys, and is seen to enjoy, the full measure of its high degree of autonomy enshrined in the Basic Law, and guaranteed by the Sino-British Joint Declaration.
Further information
Read the report in full: Six monthly report on Hong Kong: July to December 2016
Follow the British Consulate-General Hong Kong on Facebook and twitter @UKinHongKong
Published 24 February 2017