News story
Six Monthly Report to Parliament on Hong Kong: July-December 2014
The UK Government published its latest Six-Monthly Report to Parliament on Hong Kong covering developments from 1 July to 31 December 2014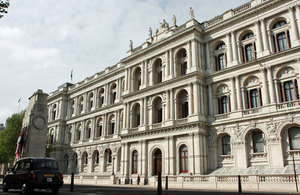 The Report covers a broad range of political, economic and constitutional developments and an overview of UK/Hong Kong bilateral activity over the reporting period.
The Foreign Secretary, the Rt. Hon Philip Hammond writes in his foreword that:
The second half of 2014 was one of the most tumultuous periods in Hong Kong's recent history. It included two important steps on the road to constitutional reform: the Chief Executive's report to the National People's Congress Standing Committee (NPCSC); and the NPCSC's decision setting parameters for reform. It also included an unprecedented period of mass protests, lasting 79 days, and a heated public debate about the future of Hong Kong.
The Foreign Secretary notes:
The parameters set out in the NPCSC decision in August were clearly more restrictive than many anticipated; but I do believe that there remains space within them for a meaningful step forward for democracy. I hope that the Hong Kong SAR Government and legislators can work together to achieve a consensus that is acceptable to the people of Hong Kong, so paving the way for approval of electoral reforms in 2015. Not only would that lead to greater democracy for the election of the Chief Executive in 2017, but it is also necessary if further reforms are to take place to allow the Legislative Council to be elected by universal suffrage in 2020.
The report concludes that "During this reporting period, "One Country, Two Systems" has been put to perhaps the most serious test since the handover in 1997. Overall it has continued to function well. The Government will continue to press for the rights and freedoms enshrined in the Basic Law and Joint Declaration to be respected. There are some areas of concern which are of fundamental importance to Hong Kong's continued stability and prosperity, and which we will monitor closely".
On the Joint Declaration, the Foreign Secretary underlines the British Government's position:
The Joint Declaration is a valid and legally binding treaty, registered with the United Nations. It guarantees Hong Kong's high degree of autonomy and Hong Kong people's basic rights and freedoms. The UK has an ongoing, legitimate interest in its implementation and will continue to monitor developments, including through future Six-Monthly Reports.
Further information
Read the report in full: Six monthly report on Hong Kong: July to December 2014
Published 26 February 2015