World news story
Six-Monthly Report to Parliament on Hong Kong: January-June 2016
The British government published its latest Six-Monthly Report to Parliament on Hong Kong today covering developments from 1 January to 30 June 2016.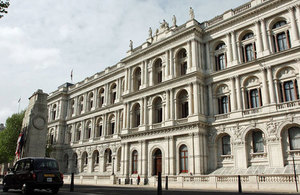 The Report covers a broad range of political and economic developments and an overview of UK/Hong Kong bilateral activity over the reporting period.
The Foreign Secretary, The Rt. Hon. Boris Johnson MP writes in his foreword:
'One Country, Two Systems' has served Hong Kong well in the 19 years since handover. The Special Administrative Region (SAR) remains a dynamic, global city. In very many areas, this framework functions successfully, giving confidence that it is fit to continue far into the future.
He also noted:
Despite this positive backdrop, I have specific concerns about the integrity of Hong Kong's law enforcement which, under 'One Country, Two Systems', is separate from that of mainland China. The case of Mr Lee Po and four others associated with Mighty Current publishing house and Causeway Bay bookstore has generated widespread concern in Hong Kong. As our previous six-monthly report said, Mr Lee's involuntary removal from Hong Kong to the mainland constituted a serious breach of the Sino-British Joint Declaration by undermining the 'One Country, Two Systems' principle.
The report concludes that the concerns and pressures we noted in the last six-monthly report "have continued in the current reporting period, in large part because of the case of the missing booksellers. To restore confidence in 'One Country, Two Systems', it is essential that Hong Kong continues to enjoy, and is seen to enjoy, the high degree of autonomy and the rights and freedoms enshrined in the Basic Law and guaranteed in international law by the Sino-British Joint Declaration. We urge the authorities in Hong Kong and Beijing to take the necessary steps to maintain confidence in the system and the sanctity of the rights, freedoms and values it upholds".
Further information
Read the report in full: Six monthly report on Hong Kong: January to June 2016
Follow the British Consulate-General Hong Kong on Facebook and twitter @UKinHongKong
Published 12 October 2016