World news story
Six Monthly Report to Parliament on Hong Kong: January-June 2015
The UK Government published its latest Six-Monthly Report to Parliament on Hong Kong covering developments from 1 January to 30 June 2015.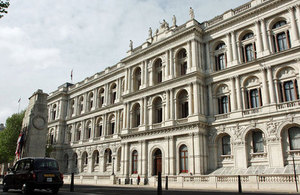 The Report describes a broad range of political, economic and constitutional developments and provides an overview of UK/Hong Kong relations over the reporting period.
Writing in the foreword, the Foreign Secretary the Rt. Hon. Philip Hammond MP said that the reporting period had been "dominated by debate over proposals for the election of the Chief Executive by universal suffrage in 2017." The Foreign Secretary noted that:
Although there was much controversy over the detail of the reforms on offer, a majority of the Hong Kong people have consistently expressed their support for the over-arching goal of election of the Chief Executive by universal suffrage, as provided for by the Basic Law. This indicates clearly that the aspiration for democratic reform remains undiminished.
The report makes clear the UK position that we believe it is imperative for all sides to re-establish communication and rebuild mutual trust to allow the constitutional reform process to be restarted. This is crucial for the effective functioning of, and confidence in, 'One Country, Two Systems'.
The report concludes 'One Country, Two Systems' has continued to function well overall. There have been some areas of increasing contention, particularly press and academic freedoms. These are important for Hong Kong's continued stability and prosperity, and for public confidence in 'One Country, Two Systems'. We will continue to monitor them closely.
Further information
Read the report in full: Six monthly report on Hong Kong: January to June 2015
Follow the British Consulate-General Hong Kong on Facebook and twitter @UKinHongKong
Published 21 July 2015