World news story
Six Monthly Report to Parliament on Hong Kong
The UK Government published its latest Six-Monthly Report to Parliament on Hong Kong covering developments from 1 January to 30 June 2014.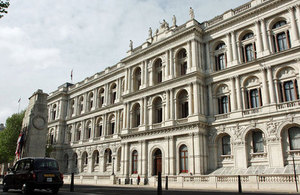 The Report covers a broad range of political, economic and constitutional developments and an overview of UK/Hong Kong bilateral activity over the reporting period.
British Foreign Secretary, the Rt Hon William Hague MP, writes in his foreword to the Report:
The future of Hong Kong is of great importance to the UK, both as a signatory of the Joint Declaration and as a country closely connected to Hong Kong by business, cultural, educational, economic and other ties. Our close history, thriving people-to-people links and the strong two-way trade and investment flows between the UK and Hong Kong mean that Hong Kong remains one of the UK's most important international partners.
The Report concludes that 'One Country, Two Systems' continued to work well, in general, and that the rights and freedoms enshrined in the Joint Declaration and Basic Law continued to be upheld. As Mr Hague notes in his foreword:
Hong Kong's unique constitutional framework has worked well. It is vital that it continues to be respected, and is seen to be respected, by all sides. The principles of 'One Country, Two Systems' and a high degree of autonomy, as enshrined in the Joint Declaration and Basic Law of the Hong Kong Special Administrative Region of the People's Republic of China, are vital for the future prosperity and security of Hong Kong.
On constitutional reform, Mr Hague said:
I believe that the best way to preserve Hong Kong's strengths is through a transition to universal suffrage which meets the aspirations of the people of Hong Kong within the parameters of the Basic Law. There is no perfect model. The important thing is that the people of Hong Kong have a genuine choice and feel that they have a real stake in the outcome.
He added "what the constitutional package will ultimately look like is for the governments of the Hong Kong Special Administrative Region and the People's Republic of China, and the people of Hong Kong, to decide. I urge everyone to engage in constructive dialogue and to work for consensus that enables progress at this crucial juncture for Hong Kong."
Further information
Read the six monthly report on Hong Kong in full
Follow the British Consulate-General Hong Kong on Facebook and twitter @UKinHongKong
Published 10 July 2014