Six Monthly Report to Parliament on Hong Kong
The UK Government published its latest Six-Monthly Report to Parliament on Hong Kong earlier today covering developments from 1 January to 30 June 2012.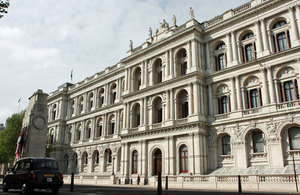 The Report covers a broad range of political, economic and constitutional developments including the election in March of the new Chief Executive of the Hong Kong Special Administrative Region CY Leung.
Foreign Secretary William Hague wrote in his foreword to the Report:
"The UK Government takes seriously its commitment to Hong Kong under the Sino-British Joint Declaration… We welcome the progress made under the last Administration on Hong Kong's democratic development and look forward to further moves towards the goal of full universal suffrage".
We will continue to follow developments in Hong Kong closely, in line with our firm commitments and our substantial interests here. Mr Hague writes that, "The continued exercise by Hong Kong of its rights and freedoms, and high degree of autonomy, is central to its continuing success"
The Report concludes that, in general, "One Country, Two Systems" continues to work well in practice and that the rights and freedoms enshrined in the Joint Declaration continue to be upheld.
Published 17 October 2012