Press release
Site Clear Up Continues at Bridgefoot Quarry
The clean up and removal of debris from the site at the Bridgefoot Quarry Recycling Centre at Flint Cross in Cambridgeshire has now begun, following the fire on 13 November 2014.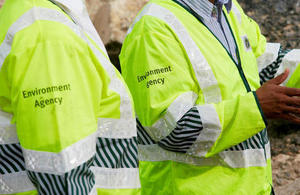 The remaining ash has been placed into stockpiles at the site and is awaiting further analysis before deciding on the most appropriate disposal method. It is expected that there will be vehicle movements in and out of the site, together with plant and equipment operating on the site. This work is expected to continue until mid April.
Kevin Rutterford, Environment Manager at the Environment Agency said:
We are encouraged to see that the clean up of the site has now begun. We will continue to visit the site regularly and to work with the site operator, their consultants and contractors to ensure the clearance of this site is carried out in a safe and expedient manner.
Approximately 60 tonnes of metal recovered from the ash has already been removed from the site and recycled.
The Environment Agency issued an Enforcement Notice to Akhtar Waste and Energy Developments Ltd for Bridgefoot Quarry, requiring all waste material, including ash to be removed by 16 February. The waste burned for much longer than expected and subsequently the resultant ash was not cool enough to be safely removed by this date.
The Enforcement Notice has been reissued and now suspends all permitted operations at the site and requires the removal of all waste materials by 13 April 2015.
Published 12 March 2015