World news story
Sistema Scotland's musical visit to Venezuela
This was published under the 2010 to 2015 Conservative and Liberal Democrat coalition government
Children from Sistema Scotland visited Venezuela to participate in a "once in a lifetime" musical experience exchange.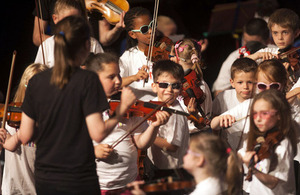 In what was called the Big Trip, 52 Big Noise Raploch children participated in a life-changing week-long trip to Venezuela – the birthplace of El Sistema music social programme.
From 9-16 January 2014, they took part in rehearsals with local children of similar age - one of them under the direction of Maestro Gustavo Dudamel -, and offered a spectacular live performance in one of Caracas' foremost concert halls. The joint Scottish-Venezuelan youth orchestra played at the Simon Bolivar concert hall at the National Centre for Social Action through Music in Caracas on 14 January under the direction of conductors Ramón Poleo (Venezuela) and Francis Cummings (Scotland).
Whilst in Venezuela, Big Noise also took part in enriching workshops with members of the Simón Bolívar Symphony Orchestra of Venezuela.
The Big Trip sought to build on the huge transformative effect Big Noise has already had on the Scottish community of Raploch, and to give the children a unique experience with one of the most thrilling music education programmes in the world.
El Sistema founder Maestro José Antonio Abreu had invited Big Noise to Venezuela after having visited Raploch with the Simón Bolívar Symphony Orchestra for The Big Concert in 2012.
Commenting on the Big Trip, Ambassador Catherine Nettleton said:
This was an amazing experience for the children of Big Noise. I really think they got a lot out of experiencing Venezuela, its people and its music. This is a great example of cooperation between the UK and Venezuela, which is making a real difference to the young people of Raploch and their community.
You can see photos from the concert and rehearsal with Maestro Dudamel on our Facebook and photos of the Big Trip to Venezuela on Sistema Scotland's Facebook page.
Note to editors:
Sistema Scotland is a charity set up in the belief that children can gain huge social benefits by playing in a symphony orchestra. They take the Sistema name from the orchestra movement established in Venezuela in 1975 by Maestro José Antonio Abreu and are official partners with the original organisation in Venezuela.
Sistema Scotland is developing youth orchestra centres throughout Scotland. These centres are known in the community as Big Noise. The first was in Raploch, Stirling. The second, in Govanhill, Glasgow, with plans for further centres across Scotland.
For information on the Scottish-Venezuelan concert, please visit the website of our Venezuela partner, Fundamusical (El Sistema).
Document information
Published: 13 January 2014