Press release
Sir Winfried Bischoff appointed as Financial Reporting Council Chair
Sir Winfried Bischoff has been appointed as the new Chair of the Financial Reporting Council (FRC).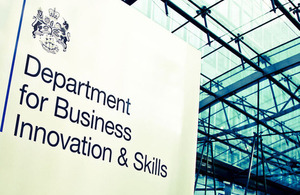 Sir Winfried Bischoff has been appointed as the new Chair of the Financial Reporting Council (FRC), Business Secretary Vince Cable announced today (23 January 2014).
Sir Winfried will join the FRC on 1 May 2014, leaving his post as Chair at Lloyds Banking Group, and will bring considerable corporate experience from serving on the boards of several UK and overseas companies. He will replace the outgoing Chair, Baroness Hogg.
It has also been announced that Gay Huey Evans, a current FRC Board Member, has been appointed as Deputy Chair. She will replace Glen Moreno, who has been in the position since November 2010, and will also start her term on 1 May 2014.
Commenting on the appointments, Business Secretary Vince Cable said:
Sir Winfried's proven track record, experience and qualities mean he is ideally suited to lead the FRC Board. He will be ably supported by Gay Huey Evans as his Deputy and I congratulate them both on their new roles.

I also want to thank Baroness Hogg for her work. She has led the FRC through some significant changes to accounting, audit and corporate governance and the introduction of the stewardship code. I also wish to thank Glen Moreno for his excellent work during his 3 years as Deputy Chair.
Sir Winfried said:
The FRC plays a vital role in connecting investors and business in the UK. I'm very proud to have been asked to become its next Chairman and I look forward to building on the significant and important work achieved under the tenure of Baroness Hogg.
Gay Huey Evans said:
I am honoured to be appointed Deputy Chair, succeeding my colleague Glen Moreno, who I have enjoyed working with over the past year. I am very pleased to be continuing the important and varied work of the Board in my new position.
FRC Chair, Baroness Hogg, said:
Sir Winfried Bischoff is an inspired choice for the next FRC Chairman. His financial sector experience and track record of running boards will be invaluable to the FRC on the next stage of its journey. Gay Huey Evans' wide experience in regulation, boardrooms and international capital markets has ensured she already has made a great contribution to the FRC Board since joining in 2012.
Notes to editors:
1.The FRC is the UK's independent regulator responsible for promoting confidence in corporate reporting and governance. The FRC and its operating bodies have various responsibilities for setting, monitoring and/or enforcing accounting, auditing and actuarial standards, overseeing the self-regulatory accountancy and actuarial professional bodies and operating independent disciplinary arrangements for public interest cases involving accountants and actuaries.
2.The post of Chair is for an average of 2 days a week and will receive remuneration of £120,000 per annum. The appointment is for 3 years, renewable for a further 3 years.
3.The post of Deputy Chair is for up to 1 day a week and will receive remuneration of £35,000 per annum. The appointment is for 3 years, renewable for a further 3 years.
4. Biographies
Sir Winfried Bischoff
Sir Winfried has substantial experience of leading complex international boards in the UK, Asia and the US. His background spans a range of sectors, including banking and capital markets, finance and government regulation and public policy.
Sir Winfried is a Non-Executive Director of Eli Lilly and Company and The McGraw Hill Companies Inc. He is Chairman of the Advisory Council of TheCityUK and a member of the Akbank International Advisory Board.
Sir Winfried was appointed Chairman of Citigroup Europe in 2000. He became the acting Chief Executive Officer of Citigroup Inc. in 2007 and was subsequently appointed as Chairman in the same year until his retirement in February 2009. Prior to this, he was the Group Chief Executive and then Chairman of Schroders.
He was appointed Chairman of Lloyds Banking Group in 2009 and will leave the role at the end of March this year.
Gay Huey Evans
Gay Huey Evans was appointed to the Board of Aviva plc in October 2011. She is currently a Director of Conoco Phillips, a Non-Executive Director of Itau BBA International plc and a trustee of Wellbeing of Women.
Formerly Vice Chair, Investment Banking & Investment Management at Barclays Capital, she was formerly Head of Governance, Citi Alternative Investments (EMEA) and Director of the Markets Division at the Financial Services Authority.
She has also held various senior management positions with Bankers Trust Company in New York and London, and was a Non-Executive Director of The London Stock Exchange Group plc.
Gay is a member of the management board and of the panel of finance experts of the Panel of Recognised International Market Experts in Finance. She is a also a member of the Council on Foreign Relations.
5.The government's economic policy objective is to achieve 'strong, sustainable and balanced growth that is more evenly shared across the country and between industries'. It set 4 ambitions in the 'Plan for Growth', published at Budget 2011:
to create the most competitive tax system in the G20
to make the UK the best place in Europe to start, finance and grow a business
to encourage investment and exports as a route to a more balanced economy
to create a more educated workforce that is the most flexible in Europe
Work is underway across government to achieve these ambitions, including progress on more than 250 measures as part of the Growth Review. Developing an Industrial Strategy gives new impetus to this work by providing businesses, investors and the public with more clarity about the long-term direction in which the government wants the economy to travel.
Published 23 January 2014