Sir Steve Redgrave on Britain hosting 'the greatest show on earth'
In a Foreign Office film launched today, former British rower and five times Olympic gold medalist Sir Steve Redgrave talks about the UK's passion for sport and his personal involvement in the 2012 Games.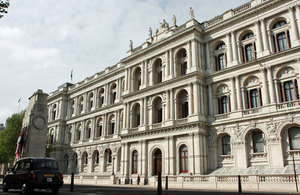 The film is one of the 'See Britain through my eyes' series featuring individuals from home and abroad talking about their experiences of modern Britain in the run up to the London 2012 Olympic and Paralympic Games, and has been launched to coincide with the 500 days to go milestone. Watch Sir Steve's story below.
In his short film, Sir Steve describes the UK as an open and dynamic society. He talks about how he got into rowing over 30 years ago, seeing it in part as a way of getting out onto the river during school-time. He goes on to discuss his belief that Britons previously had a tendency to play down their sporting abilities , but as a nation we're now comfortable winning medals at big sporting events.
Sir Steve says he's proud to be British - he maintains that representing your country overseas is a great honour, whether you're an athlete or a diplomat. He would love to compete again at the 2012 Games but recognises this might be ambitious as a 50 year old. He's now focussed on nurturing the next generation of athletes.
Sir Steve travels overseas a lot as a sporting ambassador for the UK. The UK does a lot with sport internationally. Sport Relief is a good example of how the UK provides international humanitarian relief by raising money through sporting endeavours, while the International Inspiration Programme embodies the commitment made by the London 2012 bid team to reach 12 million children in 20 countries around the world. There's a real drive to use the power of the Games and sport to enrich the lives of children and young people of all abilities, in schools and communities across the world - particularly in developing countries, through the power of high quality and inclusive physical education, sport and play.
At the beginning of his career, Sir Steve set out to win three Olympic Gold Medals. He went on to win an incredible five Golds in five successive Olympic Games from 1984 to 2000. Already established as the world's most outstanding rower of all time after his Atlanta victory, Steve decided to carry on competing through to the 2000 Games in Sydney in the hope of winning a fifth consecutive Olympic gold medal. His success in this feat confirmed him as one of the greatest athletes in Olympic history. He and partner Matthew Pinsent, held the World Record in Coxless Pairs set in Lucerne in 1994 until 2002, and Steve still retains the Olympic Record, set in Atlanta in 1996.
Sir Steve was awarded the MBE in the New Year's Honours List in 1987 and the CBE in the 1997 New Years Honours list. Following his success in Sydney, he was awarded a Knighthood in the 2001 New Years Honours List. In December 1996, the University of Durham awarded him an Honorary Degree. He has recently been appointed 2012 sports legacy champion. This involves a drive to get more people playing sport as a lasting legacy of the 2012 Games.
Sir Steve is an ambassador for our 'See Britain through my Eyes' campaign. Within this role, he is helping the Foreign Office promote the best of present day Britain around the world in the run up to the 2012 Games. Watch more 'See Britain' films here.
Published 15 March 2011