World news story
Sir Nicholas Winton, a humble hero
Much has been said and written about the greatness and humility of Sir Nicholas Winton. I've met him, and it's true. He and his story have moved me to tears more than once. His death of course saddens me, but his life inspires me.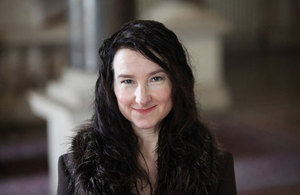 Last year I met Sir Nicholas - or "Nicky" as he had come to be known - at Prague Castle, when the Czech President paid him the highest honour by bestowing on him the "Order of the White Lion". Sir Nicholas had just flown to Prague, aged 105, in the back of an RAF plane, talking enthusiastically to the crew throughout the journey. He accepted a wheelchair at the Castle only because he did not want to delay the ceremony. Some of the children whom Sir Nicholas had saved, now in their 80s, were present at that ceremony, holding photographs of their younger selves at the time of their rescue. Most moving of all was Sir Nicholas' extraordinary humility, as he paid tribute to those Czechs who had helped him to rescue the children, as well as to the British who had made room for them.
Though he kept his story largely to himself for 50 years, Sir Nicholas continues to inspire fresh generations. A week ago I was again moved to tears when I accepted on his behalf an award from Czech schoolchildren, from the primary school named after him in Kunžak. The children had made him a dear little suitcase, recalling the Winton children's journey by train to the UK. On the luggage label was the inscription "The most beloved person on the Earth". I was due to give Sir Nicholas the gift in the UK next week, but will now pass it to his family.
But while I am sad, I am also happy: that such a man lived, and that I had a chance to meet him. His motto was "If it's not impossible, there must be a way". He did the right thing, though not the easiest thing, and he sought no recognition. How different the world might be if we could all look back on our lives and say as much.
Jan Thompson
British Ambassador to the Czech Republic