Sir Keith Mills to oversee merger of Sport England and UK Sport
Sir Keith Mills appointed as the Chair of the Project Board that has been established to manage the merger of Sport England and UK Sport.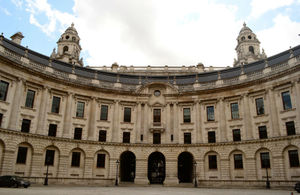 Sir Keith Mills has been appointed as the Chair of the Project Board that has been established to manage the merger of Sport England and UK Sport, due to be completed by April 1, 2013.
Mills has been tasked with working with DCMS, Sport England and UK Sport to merge both organisations into 1 single arms length body.
Minister for Sport and the Olympics Hugh Robertson said:
"It is fantastic to have Sir Keith Mills as Chair of the Project Board.  His unparalleled business experience, combined with a detailed knowledge of our sporting landscape, means he is the perfect person to oversee this work. The structure of sport in this country must be rationalised and, going forward, it does not make sense to have two organisations, operating out of different and expensive central London locations with the associated administrative costs.  I also want to capture the commercial opportunities generated by London 2012 to sport thereafter. I have no doubt Sir Keith will manage this with his customary expertise."
Sir Keith Mills said:
"I look forward to helping drive through the merger of UK Sport and Sport England.  My priority will be making sure this happens as smoothly as possible, to ensure UK Sport and Sport England can focus on the crucial work they are carrying out in the run up to the London 2012 Games, in supporting our elite athletes and funding grassroots sport respectively. We would like to see the new merged organisations provide even stronger support for sport post 2012."
Sir Keith's main responsibilities will be to ensure the project delivers a merged body that incorporates the current responsibilities of Sport England and UK Sport for community and elite sport respectively, while maintaining distinct English and UK funding streams, which deliver even more value for money for the Government and the public.
He will also ensure that the perspective of stakeholders including the devolved administrations, Home Country Sports Councils, sport's national governing bodies, local authorities and other organisations with a significant role in the delivery of sport is properly considered during the formation of the merged organisation.  
Sir Keith Mills: business biography
Sir Keith Mills was born and educated in the UK. He founded Air Miles International Group BV (AMIG) in 1988 to develop the AIR MILES programme.  Formerly Chairman of Loyalty Management Group Ltd (LMG) which is the company which owns and manages the Nectar programme in the UK and licenses Air Miles programmes internationally.
In September 2003 Sir Keith was appointed International President and CEO of London 2012, the company that was established to bid for the 2012 Olympic Games.  Sir Keith led the team and along with Lord Coe was responsible for developing the bid strategy and persuading the 115 IOC members that London should be granted the rights to host the Olympic and Paralympic Games in 2012.  On 6 July 2005, in Singapore, London beat off competition from New York, Paris, Madrid and Moscow to win the 2012 Olympic and Paralympic Games.
Having established the London 2012 organisation which will plan and organise the Games (LOCOG), Sir Keith remains as Deputy Chairman alongside Lord Coe to oversee operations.  Sir Keith is also a non executive director of Tottenham Hotspur Plc.
In 2005 Sir Keith received a number of awards including: Master Entrepreneur of the Year, Chief Executive of the Year and the Sports Industry Businessman of the Year.
In addition, Sir Keith owns two yacht racing teams:  TEAMORIGIN, which was established to compete as Britain's entry in the America's Cup, and AT Racing, which competes in ocean races with Hugo Boss sponsorship.
Sir Keith chairs two charitable sport for development foundations:  the Olympic International Inspiration programme and the UK Sported programme.
Sir Keith was appointed Deputy Lieutenant of Kent in September 2008.
Press Enquiries: 020 7211 2210
Out of hours telephone pager no: 07699 751153
Public Enquiries: 020 7211 6000
Published 2 February 2011