Press release
Sir John Sawers to leave SIS at the end of his five year term
Sir John Sawers will complete his five year term as Chief of SIS in November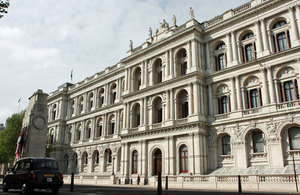 Sir John Sawers will leave the Secret Intelligence Service in November at the end of his five-year term as Chief. The Cabinet Office will shortly begin the recruitment process to appoint his successor, and will announce the outcome later in the year.
An FCO spokesperson said:
Sir John Sawers will complete his five-year term at SIS this autumn. He has done an exceptional job as Chief of the Secret Intelligence Service. Sir John has spent 36 years in a range of jobs in public service, defending UK national interests and keeping our country safe.
Further information
Follow the Foreign Office on twitter @foreignoffice
Follow the Foreign Office on facebook and Google+
Published 26 June 2014